Sustainability as an issue has been coming more and more to the forefront in the minds of New Orleans chefs. The Louisiana coastline and the Gulf of Mexico are a true microcosm of ocean ecology, so a lot of what is happening globally we can see in our own backyard. In addition, disasters such as Hurricane Katrina and the BP oil spill remind us of how precarious the balance can be. Sustainability entails so many levels and there are so many approaches to practicing and promoting it. Many people are intimidated by the idea, thinking it will be either too costly or complicated, but the fact is we cannot afford not to embrace sustainability. Even the smallest changes can make a difference.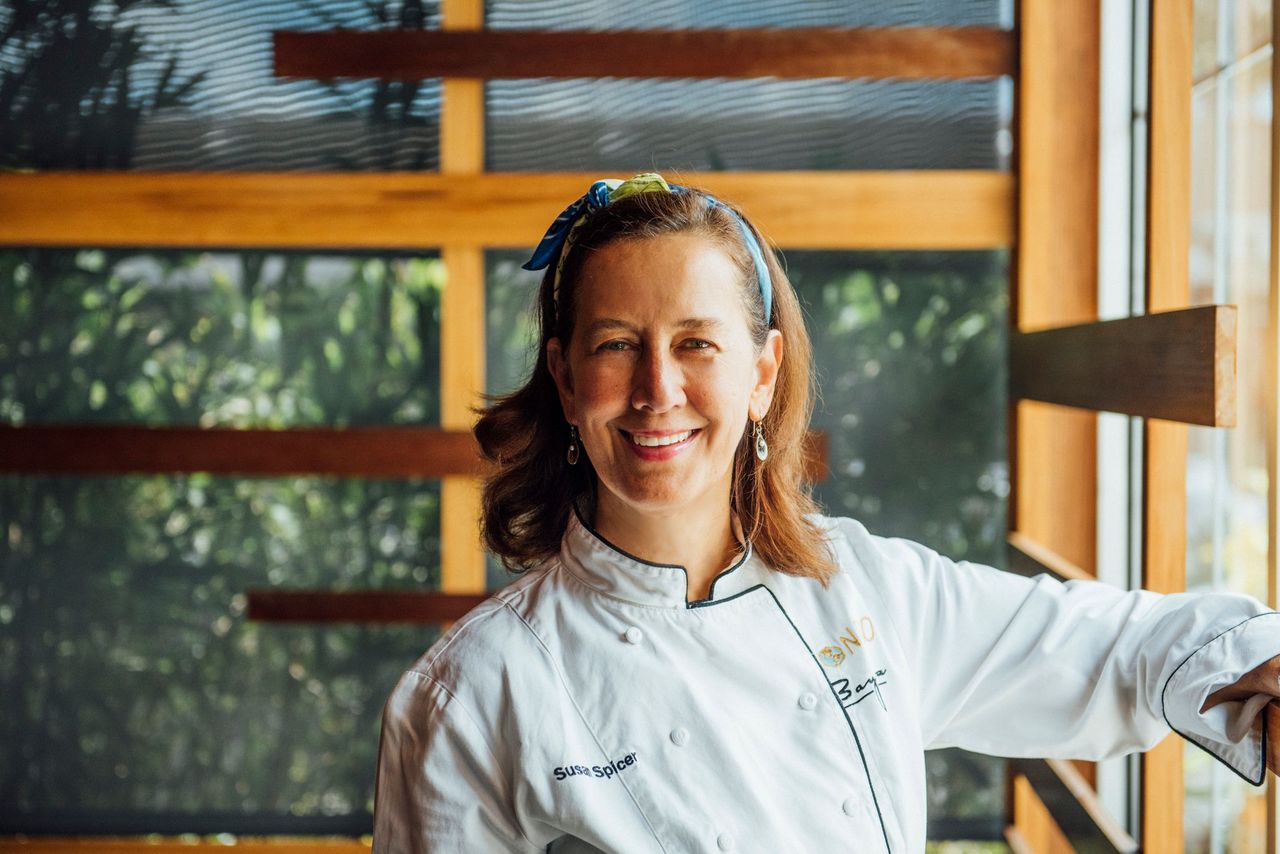 "Disasters such as Hurricane Katrina and the BP oil spill remind us of how precarious the balance can be."
Chef Susan Spicer: Promoting sustainability through the Chefs Collaborative national network and Audubon's Chef Council. Photos: courtesy of Susan Spicer/"Taste Our Love for the Land," 2015
My restaurants feature menus that are very seasonal in nature, and we utilize as much produce from local growers and purveyors as possible. It's a great way to encourage diners to sample different options, but it also opens the door to dialogue about seasonal items and sustainability. With seafood, which is of course one of the staples of Louisiana cooking, my philosophy focuses on trying to work with underutilized species. I like to think of it as a creative challenge to break out of the constraints of serving only what are the most popular or traditional favorites.
I have been involved with the Chefs Collaborative since its inception in 2009. The goal is to educate chefs on the impact that each choice we make in sourcing, cooking and serving food has on the environment and our communities. The fundamental concept is that chefs are in a pivotal position to promote sustainability, not only by educating our staff and customers, but by supporting local farmers and fisherman. Using locally sourced products has so many benefits: lessening the environmental footprint, supporting our communities and being able to obtain information on whether food has been grown or caught in a sustainable manner.
More recently, I became involved with the Audubon Chef Council, which has partnered with GULF (Gulf United for Lasting Fisheries) to promote sustainable fishing in the Gulf of Mexico. GULF's action plan is specifically tailored to the regional seafood industry and the members of the Audubon Chef Council will act as advocates, both in voice and in practice. Chefs are in an ideal position to promote sustainability because our influence can either be through directly educating customers or, more subtly, through our menu offerings. We all benefit from the bounty that the Gulf provides, and in turn we all have an obligation to engage in practices that will ensure its continued well being.
Turmeric Fried Fish Cha Ca La Vong
Serves 4 | By Susan Spicer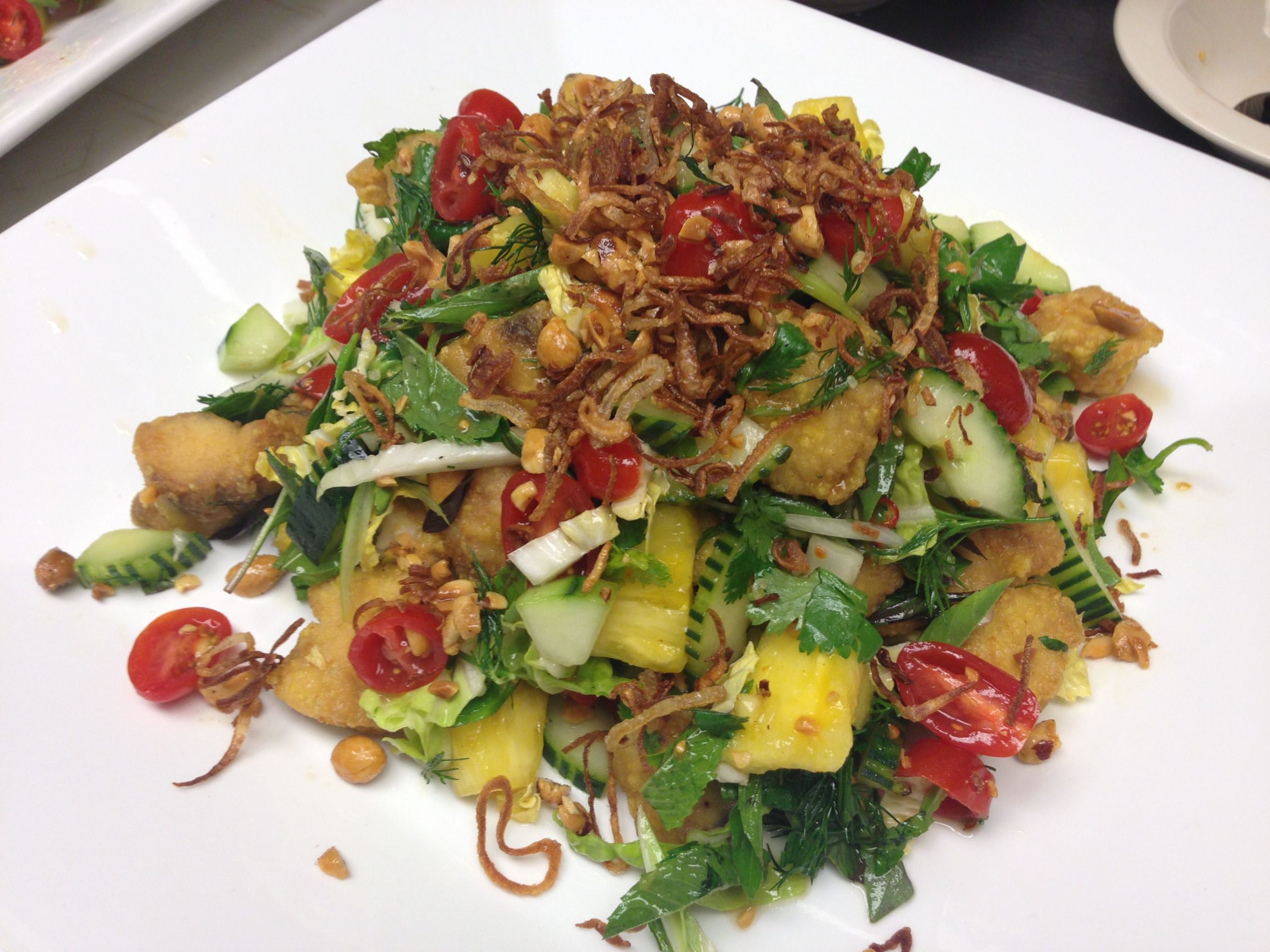 Turmeric Fried Fish Cha Ca La Vong
Serves 4  |  By Susan Spicer
1 cup rice flour
1 teaspoon ground turmeric
1 lb. white fish fillets, such as snapper, skinned and cut into bite-size chunks
2 cups vegetable oil, for deep-frying
1 large bunch fresh dill
2 teaspoons peanut oil
2 tablespoons roasted peanuts
4 spring onions or scallions, cut into bite-size pieces
1 small bunch fresh basil or thai basil, stalks removed, leaves chopped
1 small bunch fresh cilantro, stalks removed
1 lime, quartered
Diced cucumber and pineapple for garnish
Nuoc cham Vietnamese dipping sauce (sugar, fish sauce, lime juice
and Thai chilies
Mix flour with turmeric and toss the fish chunks in it until well coated. Heat the vegetable oil in a wok or heavy pan and cook the fish in batches until crisp and golden. Drain on kitchen paper. Scatter some of the dill fronds on a serving dish, then arrange the fish on top and keep warm. Chop some of the remaining dill fronds and set aside for garnishing.
Heat the peanut oil in a small pan or wok. Stir in the peanuts and cook for 1 minute.
Add spring onions, remaining dill fronds, basil and cilantro. Stir-fry for no more than 30 seconds, then spoon the herbs and peanuts over the fish. Garnish with the chopped dill, diced cucumber and diced pineapple and serve with lime wedges and nuoc cham to drizzle over the top.