I grew up in the Venice/Santa Monica area of California, living just blocks from the beach with parents who were always involved in the arts community and the hippie vibe of Venice. My family always made it a point to support our neighbors and the surrounding community. Growing up, I was a local on the beach—surfing, swimming, hanging out with the Los Angeles County lifeguards and volunteering for the Santa Monica-based Heal the Bay environmental nonprofit from the ninth grade on, out of a deep respect for the ocean and Mother Nature.
At an early age I was exposed to locally grown produce and meats, as well as the importance of cooking with clean tastes and fresh food. Visits to a weekly co-op to purchase our family's groceries were routine, very similar to today when so many communities depend on local farmers markets for fresh products. My family considered the Santa Monica Farmers Market a gift to the neighborhood.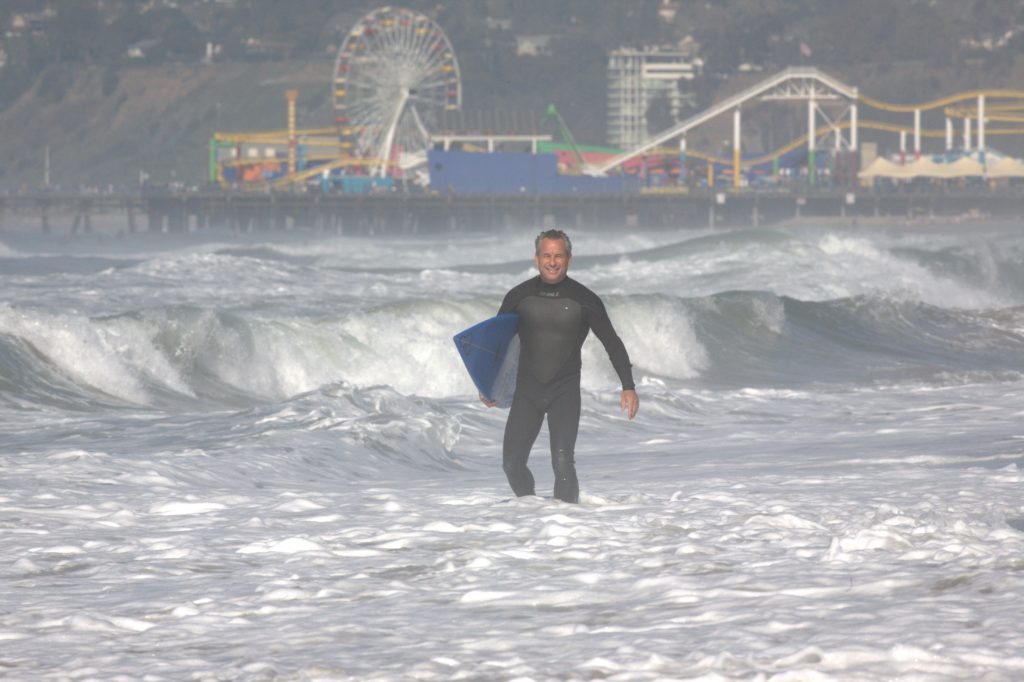 My favorite meal is finding what's fresh at the fish market in downtown Los Angeles and pairing it with what's available at our neighborhood farmers market.
Venice/Santa Monica native chef Raphael Lunetta's lifelong love of the California coast has inspired a deep respect for the environment. Photos: courtesy of Raphael Lunetta/"Taste Our Love for the Land," 2015
During summers starting at age seven, I traveled with my mother to my aunt's weaver's retreat in the south of France on the rustic Mediterranean coast. There we cooked what we had each day— often locally caught fish and ripe vegetables from the garden, grilled over an open fire of grapevines. If food wasn't consumed completely, it was repurposed for the next meal.
Today, I continue this tradition of sustainability and supporting local farmers and small business. My favorite meal is finding what's fresh at the fish market in downtown L.A. and pairing it with what's available at our neighborhood farmers market. Then I cook a Sunday family feast at home—simple, fresh, and memorable.
I've tried to instill in my sons my love for the ocean and mountains, the California coastline and the Pacific islands. What's truly meaningful for me is living and eating right and maintaining a respect and appreciation for the environment—and passing that on to future generations, to help them enjoy what I've been so blessed to have. Today I still live with my family close to the beach, with a reverence for the environment and a real passion for fresh foods and healthy living.
Filet of Beef with Yukon Gold Potato and Pear Gratin
Serves 4 |  By Raphael Lunetta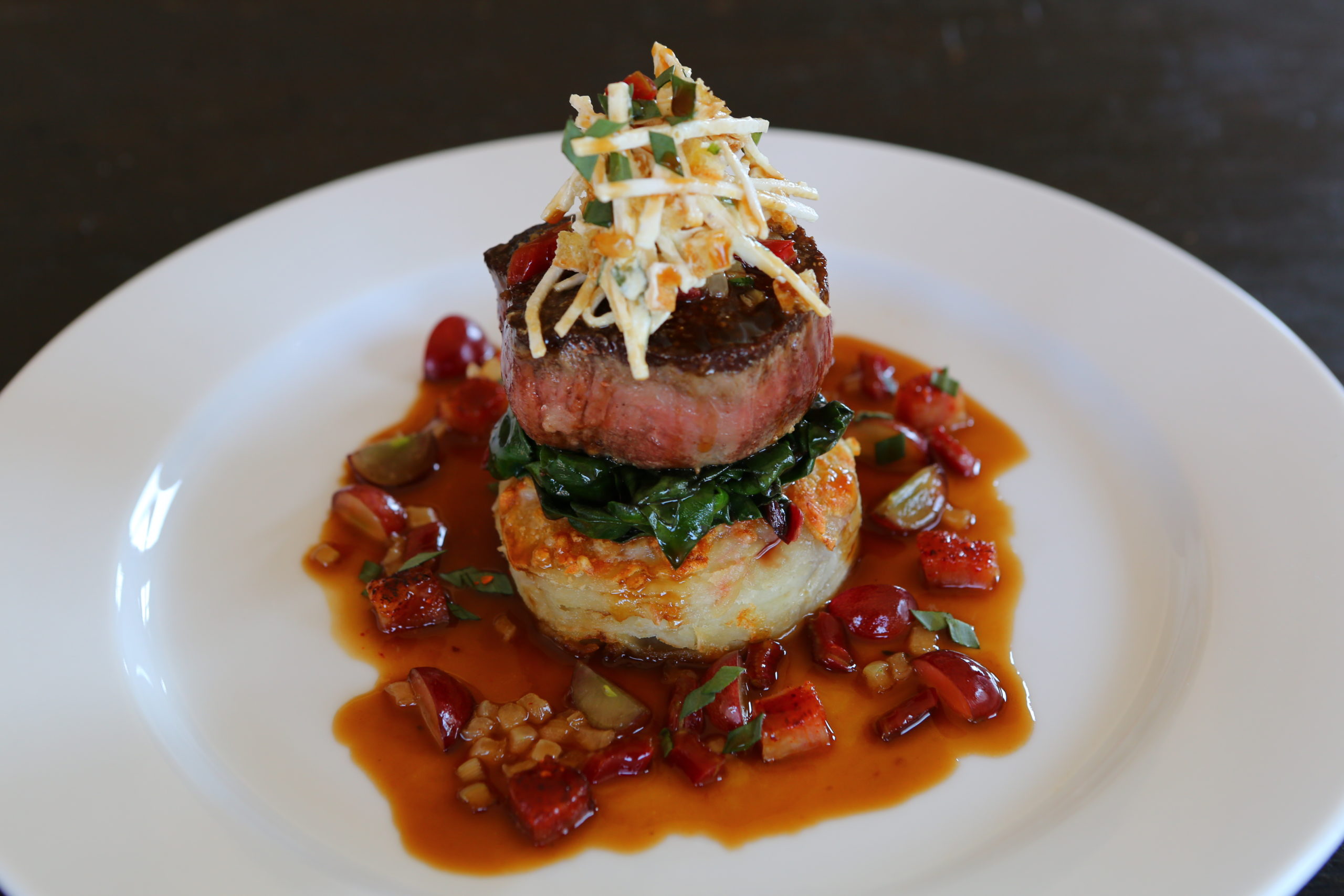 Filet of Beef with Yukon Potato and Pear Gratin
Serves 4 | By Raphael Lunetta
4 5-ounce center-cut prime filets
4 Yukon potatoes
3 Bartlett pears
1 cup heavy cream, reduced by half
½ cup grated Parmigiano-Reggiano
½ tablespoon chopped thyme
1 large bunch red Swiss chard
1 tablespoon minced garlic
2 shallots, fine brunoised
3 tablespoons extra-virgin olive oil, divided
¼ pound butter, divided
½ cup ciabatta bread, fine diced
½ pound fresh hearts of palm, julienned
10 leaves tarragon, chopped
2 ounces Mustard Crème Fraiche Vinaigrette (recipe follows)
Madeira Reduction Sauce (recipe follows)
1 cup red flame grapes, halved
Salt
Pepper
Prepare Potato and Pear Gratin one day ahead. Butter the bottom of a shallow hotel pan or a 9-inch by 9-inch square baking dish. Slice Yukon potatoes and pears with a mandoline. Alternating between slices of potato and pear, layer potatoes and pear evenly on the bottom of the dish. Brush the layer with reduced cream, followed by sprinkling grated Parmigiano-Reggiano cheese, salt, pepper and chopped thyme on top. Repeat the process of layering potato, pear, cream, cheese and seasonings 6 to 7 times. Bake at 350°F for 40 minutes. Remove from oven and allow to cool. Cover gratin with plastic wrap, set a second baking dish on top and press overnight. Using a 4-inch ring mold (or shape of your choice), cut out portions of gratin and set aside.
Wash Swiss chard well and cut into large julienne. In a stainless steel sauté pan, sauté chard with minced garlic, shallots, 1 tablespoon of olive oil, 2 tablespoons of butter, salt and pepper until tender (approximately 2 to 3 minutes). Remove from pan and set aside in a cool place.
Pre-heat oven to 400°F. Season each filet of beef on both sides with salt and coarse-ground black pepper. Using a stainless steel sauté pan or cast iron skillet, sear beef over high heat with 2 tablespoons of olive oil and 4 tablespoons of butter. Flip and place in oven for 5 to 6 minutes. Remove and let rest in a warm place.
Using a nonstick sauté pan or baking dish, re-heat Potato and Pear Gratin until golden-brown. Remove and reserve next to beef in a warm place.
Bake ciabatta bread until light-golden and crunchy. Using a fork, mix hearts of palm, tarragon and croutons with Mustard Crème Fraiche Vinaigrette. Season with salt and fresh-cracked pepper to taste.
Reheat Madeira Reduction Sauce. Once heated, add 2 tablespoons of butter and grapes. Season to taste.
Arrange four plates and place Potato and Pear Gratin in center of plate. Place a small mound of Swiss chard on top of gratin. Place filet of beef on top of chard. Spoon Madeira Reduction Sauce over filet and around the dish. Finish with hearts of palm mixture on top of the filet.
Mustard Creme Fraiche Vinaigrette
1 ounce Dijon mustard
½ ounce red wine vinegar
1 ounce creme fraiche
1 pinch coarse-ground black pepper
10 tarragon leaves, chopped
Salt, to taste
Madeira Reduction Sauce
1 onion
3 stalks celery
2 carrots, shaved
10 sprigs fresh thyme
2 bay leaves
4 cloves crushed garlic
1 tablespoon whole black peppercorns
2 tablespoons extra-virgin olive oil
¼ cup sherry vinegar
½ bottle (375 ml) Madeira wine
1 cup veal stock
In a small to medium stainless steel pot, sweat all vegetables, herbs, garlic and peppercorns with 2 tablespoons of olive oil. Add sherry vinegar, and continue to cook for 1 to 2 minutes. Add wine and cook for another 6 to 8 minutes. Add veal stock and simmer for 30 minutes. Strain through a fine mesh strainer. Strain again with a fine mesh strainer lined with cheesecloth. Slowly reduce remaining sauce until desired consistency is achieved.