I'm proud to be a founding member of the Hawaii Chef Action Network (HICAN), a group that also includes Ed Kenney of Town and Mud Hen Water restaurants; Mark Noguchi of the Pili Group; and Sheldon Simeon of the Migrant of Maui. We work together in advocating for change for food policy, agricultural land rights, ocean health and the preservation of Hawaiian culture and cuisine.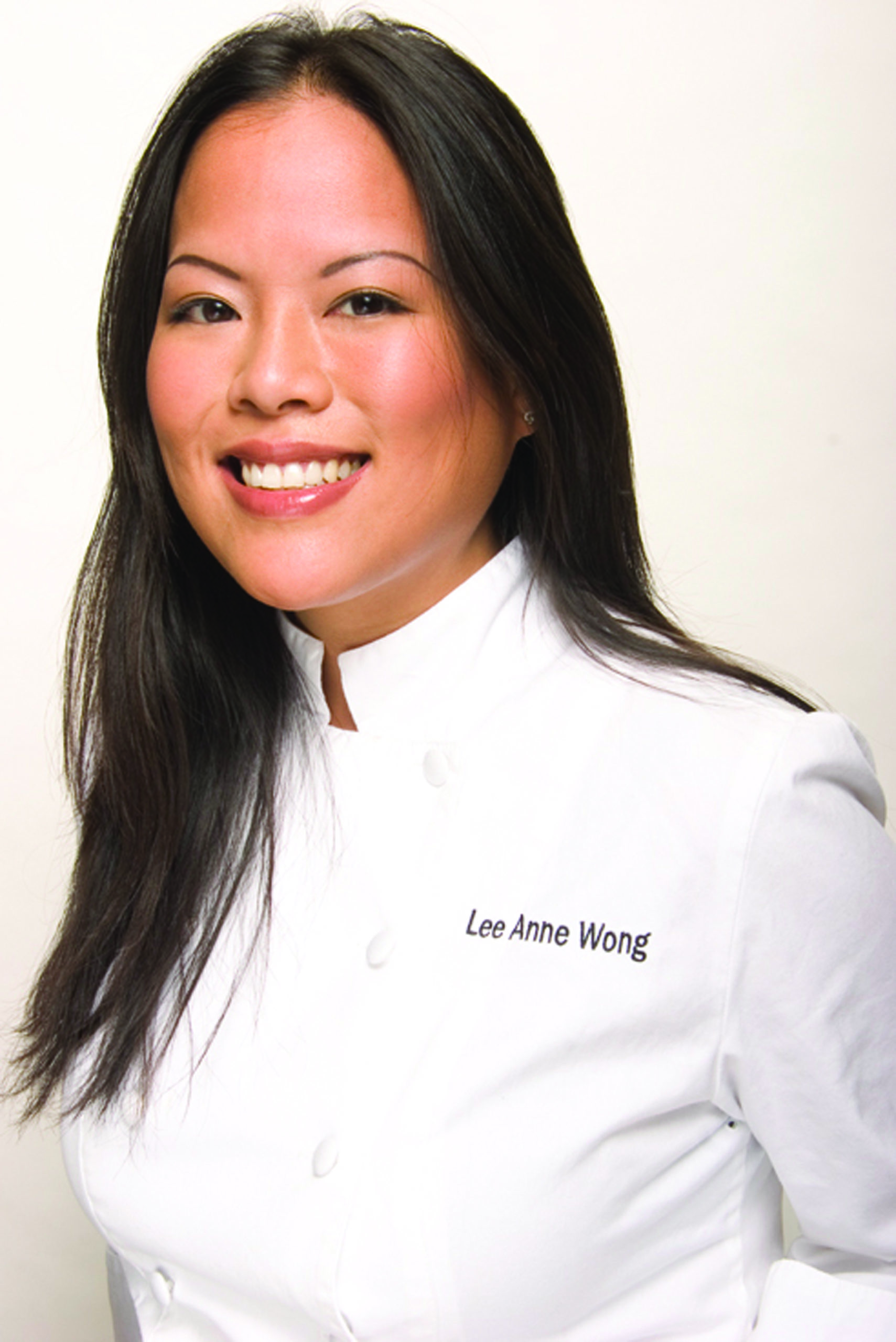 "They're eating food that's been made with human hands and love and care."
Lee Anne Wong advocates for sustainability and change in food policy through her passion for cooking. Photos: courtesy of Lee Anne Wong/"Taste Our Love for the Land," 2015
We use social media, provide media trainings, educate chefs about food supply systems and legislative tactics, host a variety of events and support campaigns to create a more sustainable and biodiverse food system, one that encourages people to be more aware of their relationship with the land and what they eat. And as we like to say HICAN, we also have a hell of a good time doing it!
I've learned a lot in all of my culinary travels, including the many knowledgeable people I have worked with on Bravo, Cooking Channel and Food Network shows like "Top Chef," "Iron Chef America," "Unique Eats," "Chopped" and "Food Crawl." Since making the big move from New York City to Honolulu in 2013, I've been able to apply these lessons to supporting sustainability through local products for my businesses. And I'm able to share my views with my customers through the food we serve, knowing that-unlike fast food-they're eating food that's been locally grown and made with human hands and love and care.
Poi Vegetable Tart
Yeilds 30 to 40 pieces | By Lee Anne Wong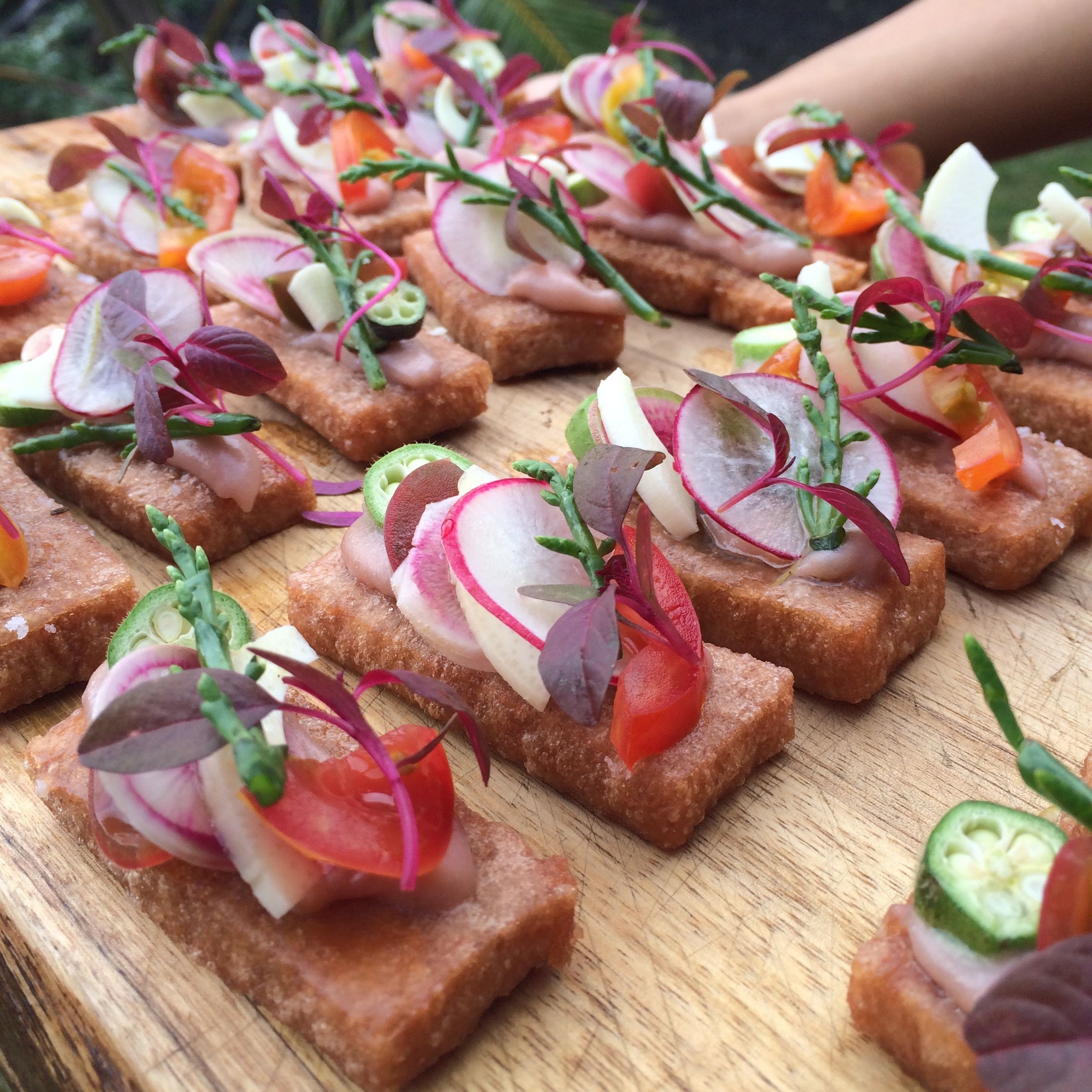 Poi Vegetable Tart
Yields 30 to 40 pieces | By Lee Anne Wong
2 pounds paiai (hard, pounded taro; undiluted poi)
¾ cup sour poi (at least 1 week old)
Assorted small vegetables (tomatoes, sea asparagus, radishes, heart of palm, etc.; sliced thin or cut small)
1 teaspoon Meyer lemon zest
3 tablespoons Meyer lemon juice
2 teaspoons Hawaiian honey
3 tablespoons extra-virgin olive oil
Edible flower petals, minced parsley or chives
Vegetable oil, for frying
Hawaiian sea salt
Pepper
Preheat vegetable oil to 350°F. Cut paiai into ¼-inch-thick squares, rectangles or rounds (measuring 2 inches across or on the longest side). Fry pa'i 'ai in hot oil until puffy and crisps, about 2 minutes. Drain on paper towels and lightly season with salt.
Place the sour poi in a piping bag or squeeze bottle. Pipe a teaspoon of poi on each piece of fried paiai. Shingle sliced vegetables over the poi.
In a small bowl, combine lemon zest, lemon juice, honey and extra-virgin olive oil. Season with salt and pepper. Drizzle mixture over the vegetable tart. Garnish with more Hawaiian sea salt, flower petals or minced herbs.