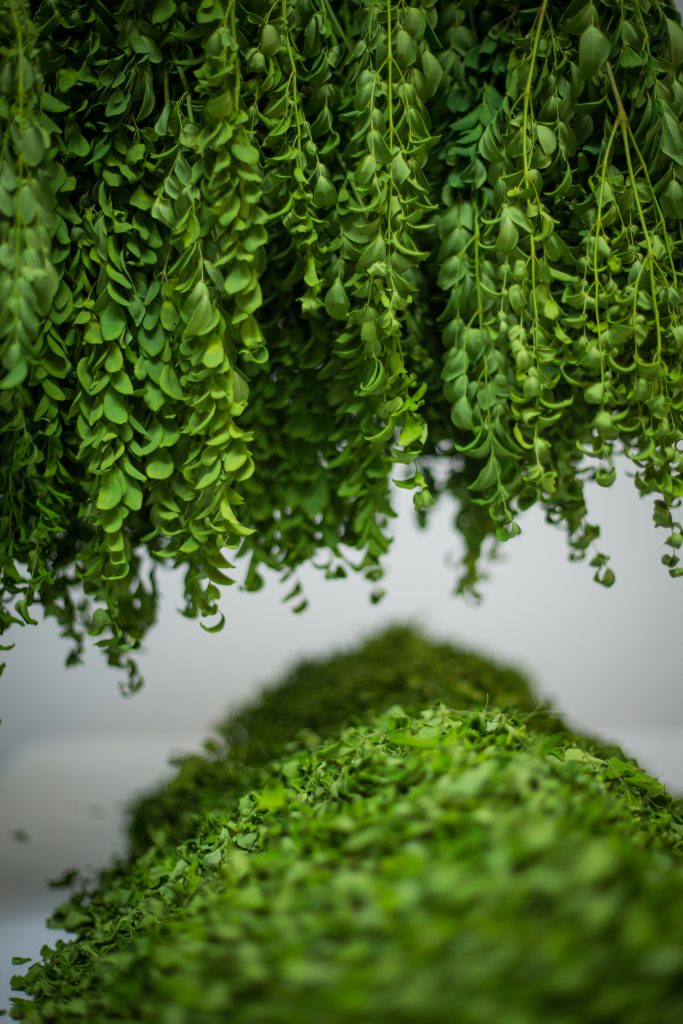 Photos: courtesy of David Wong
"Moringa Helps the body get back in balance. It empowers the body to take care of itself."
It all started with a few plants and a lot of faith.
David Wong, a second-generation dairyman, decided he would repurpose the family's defunct dairy farm in Waianae into a multi-product organic one, free of pesticides, herbicides and fertilizers. About five years ago, he had his workers start garden boxes, growing whatever they wanted, to train them on this unconventional style of farming. He had faith that nature—without any intervention—would find the right balance for these plants to thrive.
"We have to realize that all life starts in the soil," Wong says.  His workers grew everything from Vietnamese taro to bok choy to a tree Wong knew nothing about.
This tree, Moringa oleifra, commonly known as kalumungay in Hawaii, is now Wong's primary crop, covering about 10 acres of his farm. The conditions here—hot, dry, arid—are ideal for the resilient moringa tree, native to the Himalayan foothills and cultivated extensively throughout India and parts of Africa. It produces edible leaves that are unusually rich in protein, iron, calcium, vitamins and essential amino acids. Its seedpods are also spiked with protein and omega-3 fatty acids. And preliminary research has found that both the tree's leaves and pods have strong anti-inflammatory and anti-diabetic properties and may contain enzymes that protect against cancer.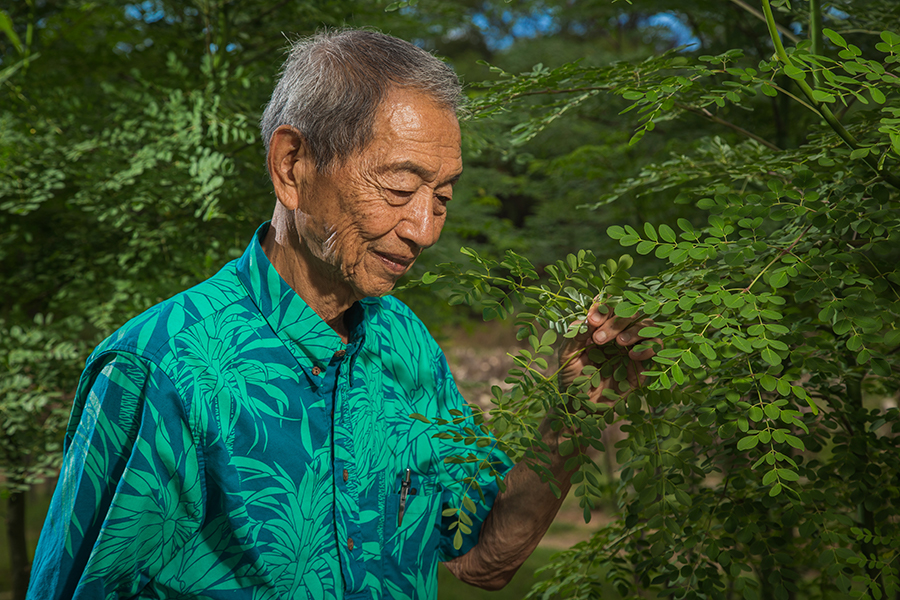 Farmer David Wong in his moringa grove in Waianae.
Though it's been used for decades in Africa and other parts of the world as a food supplement—pregnant women in Africa are given 25 grams of moringa powder daily to improve prenatal nutrition—it has only recently gained Western popularity as a superfood, processed into a nutrient-packed powder and added into smoothies and juices.
Though it's fairly common in Hawaii—you'll find this tree in backyards all over the Islands—not many local farmers are cultivating moringa commercially. But demand is steadily growing beyond ethnic markets, with consumers interested in the tree's health benefits and chefs curious about the culinary possibilities.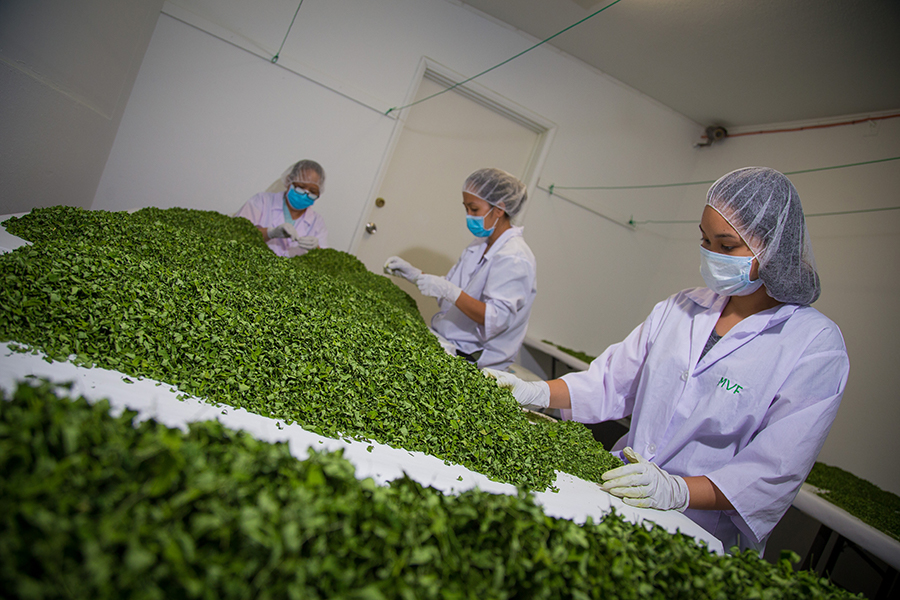 Processing moringa at Mountain View Farms.
Moringa will be the featured ingredient in the 8th annual Hawaii Food & Wine Festival's Emerging Crop Cook-Off, part of Crops & Hops, presented by the Howards Hughes Corp. The event, which will be held on Oct. 24 at Ward Village, will showcase a slew of locally grown emerging crops—chickpeas, warabi, kiawe beans, olena (turmeric), ulu (breadfruit)—prepared by a stellar lineup of chefs, including Floyd Cardoz, Spike Mendelsohn, Mark Peel, Jon Matsubara, Sheldon Simeon and George Mavrothalassitis. Guests can pair the dishes with 34 beers from around the world.
Part of the festival's mission is to promote Hawaii as a source of world-class agriculture and ingredients. The highlight of Crops & Hops is the cook-off, where three chef finalists will compete with their creations using moringa.
"Emerging crops are the future," says Matsubara, executive chef of Merriman's Honolulu, which opened in Kakaako this summer, who will prepare a dish featuring wax jambu and lobster. "I think the quicker the restaurant industry figures out how to showcase these ingredients and make them mainstream, the more impact it will have on our community and self-awareness about where we source our food from local ingredients."
Already, local chefs are playing with moringa, beyond using leaves in Filipino soups or pancit.  Michelle Karr-Ueoka, pastry chef and co-owner of MW Restaurant and Artizen by MW, hadn't heard about moringa until a guest at the restaurant told her about it four years ago.
Growing up in Hawaii, she knew about the ingredient—as kalumungay—but had no idea about its health benefits.  "That amazed me," she says. "At the time my best friend had cancer and there was nothing we could do, so the idea of moringa slowing down cancer intrigued me."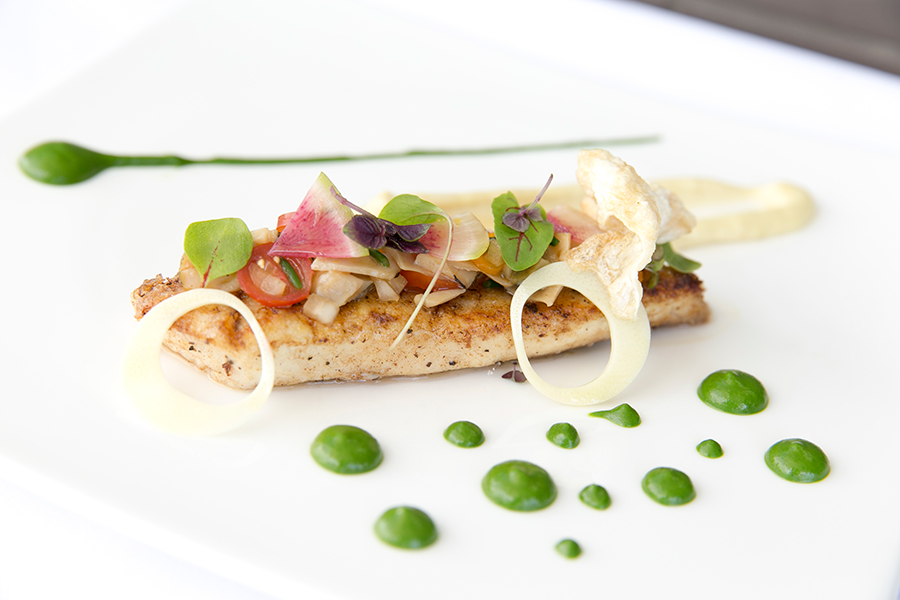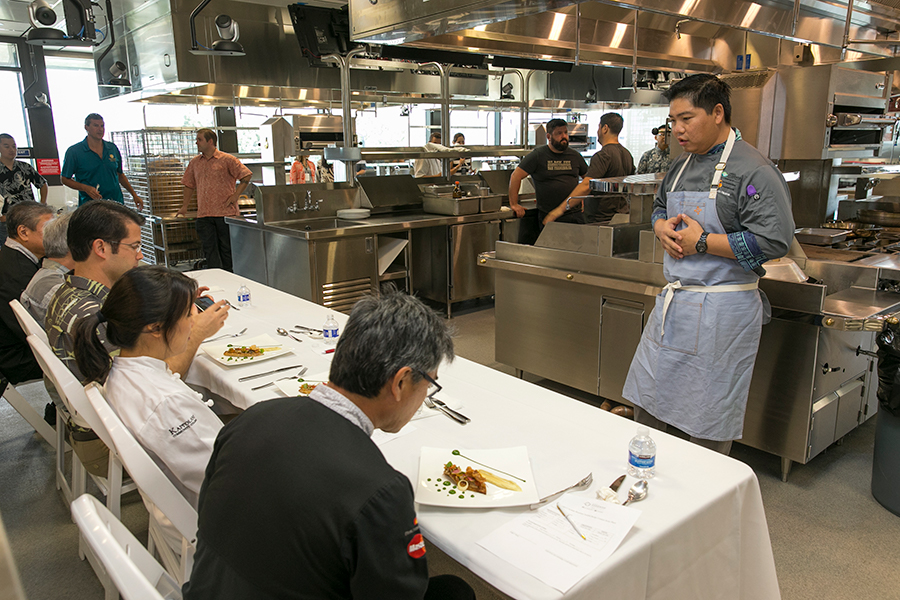 Colin Hazama's tilapia dish won the inaugural Emerging Crop Cook-off. Photos: Marco Garcia/Hawaii Food & Wine Festival, 2017
Wong, who also raises pigs on his Wai'anae farm, supplies Karr-Ueoka with pork. When she asked him if he could grow moringa, he laughed and said he feeds that to his pigs. He started processing the moringa leaves into a fine powder and gave her some to play with and now she uses it in everything from truffles to matcha-moringa plantation-style iced tea. The slightly bitter, peppery taste works well with other earthy ingredients, including shiso.
"It adds a unique flavor," Karr-Ueoka says.
She gave a bag of moringa powder to another local chef, Chris Kajioka, of Senia, who dusts his signature charred cabbage dish with it.
"When I came up with the cabbage dish, I originally wanted a bright green component," Kajioka explains. "We char the cabbage so long, the color becomes very dark. Moringa adds a color brightness but also a flavor brightness with its inherent bitterness. I always think about balance when creating dishes and bitter is always a component that needs to be there."
Wong sees the potential in moringa, beyond its culinary uses. He extracts the oil from seedpods—moringa oil is popular in skin-care products and cosmetics for its anti-aging, anti-inflammatory and moisturizing properties—to use as an antiseptic and to help heal cuts and burns. He dries, hand-picks and processes the leaves into a fine powder that he sells in capsules under the name Rebalance; customers use it for all sorts of ailments, from hypertension to diabetes. Wong, who was diagnosed with prostate cancer in 2014, even plucks the leaves from his trees and eats them raw.
"Moringa helps the body get back in balance," he says. "It empowers the body to take care of itself. That's the beauty."