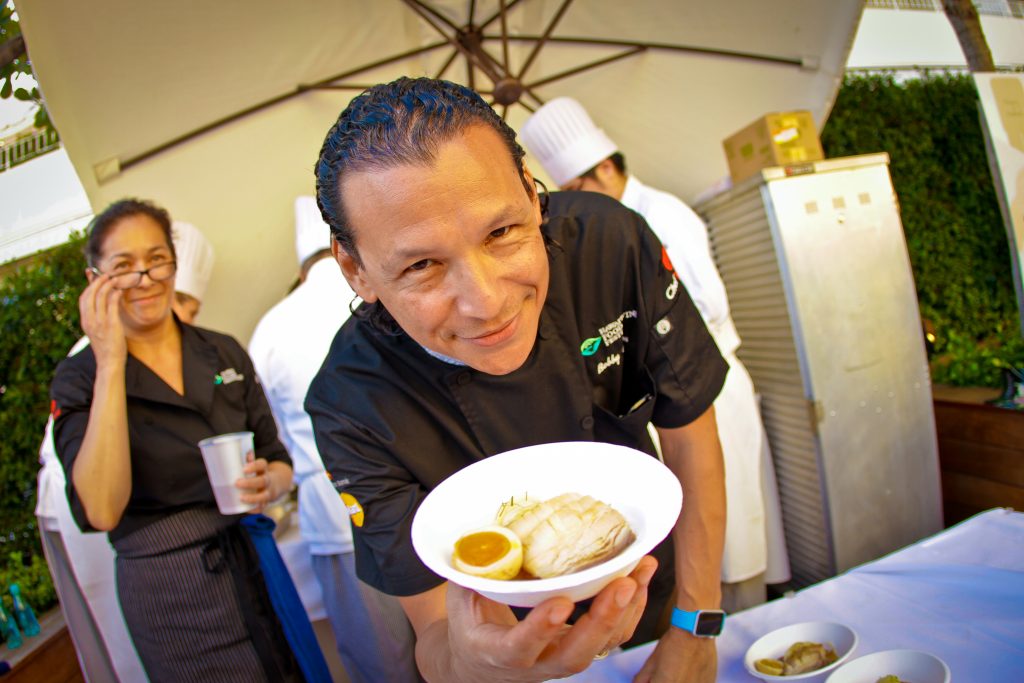 Photo: courtesy of Bobby Chin
Bobby Chinn
London, England
What do you look forward to most about coming to Hawaii for the Sixth annual Hawaii Food & Wine Festival?
I simply love the entire experience of working in an inspiring environment with talented chef and student chefs…which is all against the backdrop of such an iconic location, Hawaii! I spent some time in Oahu in my younger years so this event and Honolulu hold a very special place in my heart.
The festival strives to bring together the world's best chefs, winemakers and mixologists. Name 3 people you would invite if you were putting together your own "culinary dream team" and why.
Too many great chefs, winemakers and mixologists to name just three!
Is there a local ingredient that you are excited about working with in Hawaii?
I love the seafood, but I'm a total sucker for Hawaiian mangoes. Last year, I discovered sustainable abalone and was impressed with the quality of the local produce.
What's one thing that you like to eat or drink that might surprise people?
It really depends on where I am in the world. When I'm in LA or San Francisco, a good taco, burrito or tamale is also on order…and the search for a great mole is a never ending task. In Asia, I'm thrilled to eat on the street to really take in the local food and flavors. You would be hard pressed to find me in a restaurant.
What's your favorite late night snack or night cap?
I'm not sure you can call it a snack — a hot bowl of pho or a chicken shawarma with extra garlic sauce. Night cap is an antacid and coconut water!
Best indulgence — dessert, dish, or drink?
I love to eat oysters, caviar, sea urchin, a wide variety of sashimi. No need for break, blini or rice. Light, clean flavors from the sea is always appreciated.
What's the coolest highlight of you career so far?
I had the chance to cook for Bob Dylan and his band. They were performing in Ho Chi Minh City years ago and one of the concert organizers asked if I would be interested in preparing dinner for them. I was such a fan, and am still a big fan, of course I said yes! I made chicken noodle soup for Bob and steak, mashed potatoes and other comfort food for the band.
What's the best (or worst) advice anyone ever gave you?
Success is the best revenge…so work hard, give back, stay true to who you are and the rest will take care of itself.
What's on your bucket list?
Every year I want to spend a month of quality time with my family. Other than that, I want to jump out of an airplane, travel through South America, go on a safari and eat my way through Iran.