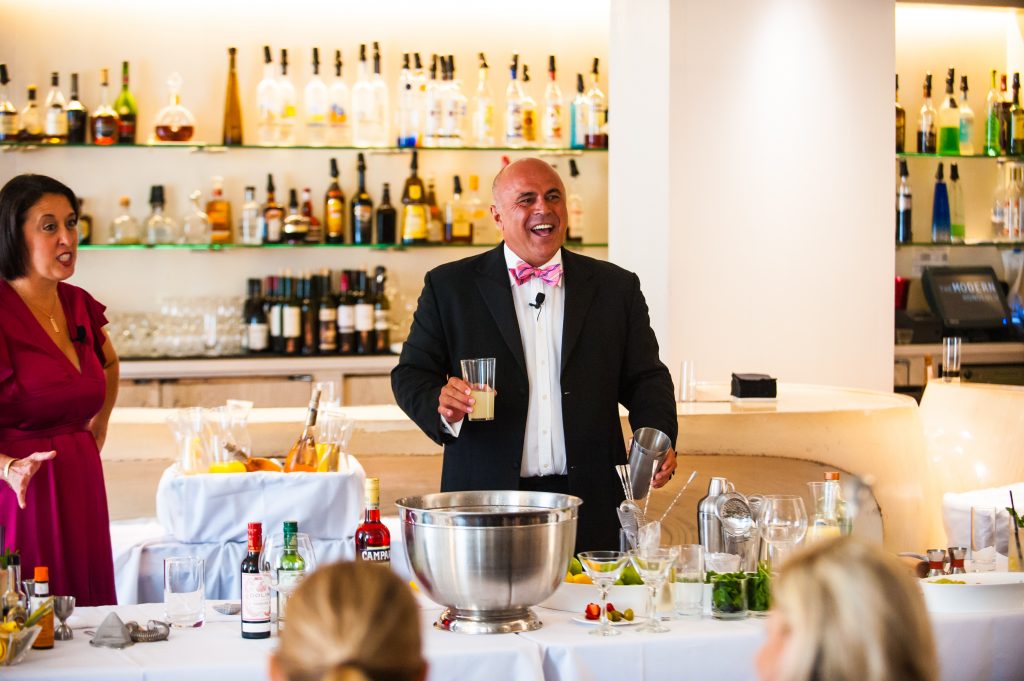 Photo: courtesy of Tony Abou-Ganim
Tony Abou-Ganim
Las Vegas, NV
Mixologist: The Modern Mixologist
Signature Events: A Culinary Flight at Halekulani Culinary Masters East Meets West Gala
What do you look forward to most about coming to Hawaii for the Sixth annual Hawaii Food & Wine Festival?
Now that I have had the pleasure of participating in the first five Hawaii F&W Festivals I now feel like family "Ohana" and I look forward to seeing my family every year. This is the one Festival that I look forward to being part of each year, I love the Island and I love the people!
The festival strives to bring together the world's best chefs, winemakers and mixologists. Name 3 people you would invite if you were putting together your own "culinary dream team" and why.
Dale DeGroff – He is the author of "Craft of the Cocktail" as well as being known as the Big Kahuna of today's craft cocktail movement, did some work at the Halekulani and is a great presenter
Chef Shawn McClain – We are opening Libertine Social together in Las Vegas this month and we have presented several food & drink seminars together, he's also just a very nice guy!
Bridget Albert – Fantastic mixologist, educator and presenter. She is the author of Market Fresh Mixology as well as heading up the educational program for Beam Suntory / Southern Glazer's Wine & Spirits.
Is there a local ingredient that you are excited about working with in Hawaii?
Where do I start? Pineapples, mangos, guava, Dragon Fruit…but this year I think I'm going to focus on Rambutan or "Dragon Eye" and feature that in a cocktail or two.
What's one thing that you like to eat or drink that might surprise people?
I'm from Michigan so I love to eat Coney Island hot dogs and Vernors ginger ale ice cream floats.
What's your favorite late night snack or night cap?
I don't get a sweet tooth that often but when I do it's usually late night and it's usually ice cream, my go to is Swiss Almond Vanilla but lately I've been craving coconut, guess I'm gearing up for Hawaii. Green tea mochi also works!
Best indulgence- dessert, dish, or drink?
I would have to say French fries! I love French fries, really good French fries, and I would say my favorite French fries are the Pomme Frites at Bouchon here in Las Vegas. Whenever I feel like treating myself and throw caution to the wind it's the steak pomme frites at Bouchon, and I usually start with the foie gras.
What's the coolest highlight of you career so far?
After 36 years there have been a lot of highlights, I have been truly blessed to work in and make a career in this profession. That said I would have to say being a part of opening the Bellagio in 1998 and introducing a fresh, hand-crafted cocktail program in a Las Vegas casino-resort that served 25,000 drinks every day might just top the list!
What's the best (or worst) advice anyone ever gave you?
It would have to be the many words of wisdom that my cousin Helen David shared with me over the early years of my career (she was the first person to put a cocktail shaker in my hand in 1980 at the Brass Rail Bar in Port Huron, Michigan). But the thing that stays with me every day is "For a nickel more you go first class." This is how I approach preparing cocktails as you only get out of a drink what you put into it, which means using the best possible ingredients. It also applies to how I try and approach life every day, as this life is not a dress rehearsal and we should strive to live each day to the fullest and enjoy everything it has to offer!
What's on your bucket list?
I have checked so many boxes on my bucket list but I have so many more I'd like to accomplish – a 4-5 month cross country motorcycle / book signing trip to launch my next book, learn to play the piano, learn French (more than just French fries), dive the Great Barrier Reef, build a summer cottage on Lake Huron in Michigan, open a small Mai Tai Bar in Hawaii…
Let's focus on the small Mai Tai Bar in Hawaii!