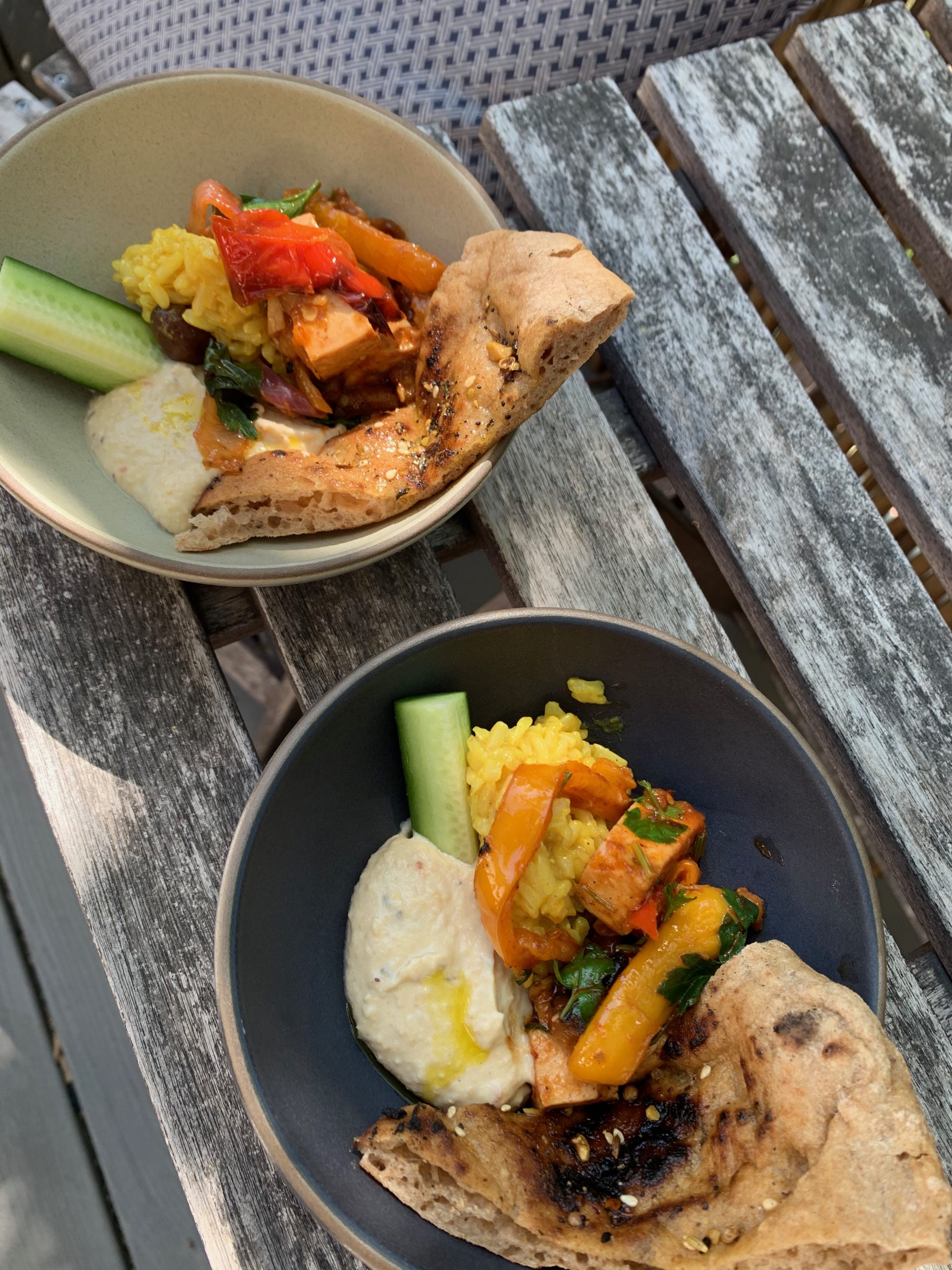 Chef Elizabeth Falkner Falkner continues to make magic in the kitchen and tell stories in creative ways. This year has launched her on a journey of new partnerships and, most excitingly, a new documentary. Photo: courtesy of Elizabeth Falkner
Lebanese Inspired Chicken or Tofu with Hummus and Orange & Cinnamon Infused Brown Rice with Olives
Serves 2 | By Elizabeth Falkner
2 pounds chicken or tofu
3 teaspoons cumin
1 teaspoon cayenne pepper
1 eggplant
1 cup olive oil
7 garlic cloves
Peppers
½ red onion, sliced
1 can chickpeas
Tahini
Dried oregano
Chili flake
Tomato paste
Pomogranate mollasses (substitute honey and lemon)
Brown rice
Lemon juice
Cinnamon
Olives
Salt

If using chicken, cut into smaller pieces and season with salt and pepper and 2 tsp. cumin and 1 tsp. cayenne pepper and if using tofu, cut into 1" chunks and season with a little salt, cumin and cayenne-set aside
Puncture the eggplant all over and place over open flame to char completely.Set aside to cool. Remove charred skin and rough chop.
Place 1/4 cup of olive oil in a small saucepan and add garlic cloves to infuse and simmer just for a couple of minutes. Turn off heat and set aside.
Place peppers and sliced red onion on a sheet pan and drizzle with olive oil and pinch of salt.
Set under broiler to char, turning over half way through. Alternatively do eggplant and peppers on a grill. Set aside to cool. Remove chili stems and slice peppers.
Hummus
Drain can of chickpeas. Place chickpeas in a food processor with tahini, 2 cloves of garlic and 1 tsp. cumin, juice of one lemon, 1 tsp. salt, and 1/4 C. water and 1/4 C. olive oil. Blend adding water and oil and more seasoning as necessary.
In a large saute pan over high heat add 3 tablespoons of olive oil and then add the chicken to sear on skin side first. Turn over and then add the eggplant, onion, mashed 3 garlic cloves and peppers. Add the dried oregano, chili flake and rest of cumin, tomato paste and pomegranate molasses or honey and lemon.
Add a little water and turn heat down to simmer and cook covered for 15-20 minutes. Use the garlic infused olive oil added to the pan after cooking everything.
Rice
Place 2½ cups of water in a saucepan with the brown rice and a pinch of salt and bring to a boil.
Cover and simmer for about 30 minutes. Add orange peel for another 10 minutes. Finish with a tablespoon of olive oil and cinnamon and olives.
Warm pita breads, drizzle with olive oil and salt, and cut into wedges and slice cucumbers.
Spread some hummus on each plate. Add the chicken and its sauce over. And serve with the rice, pita and cucumbers. Finish with parsley and cilantro.