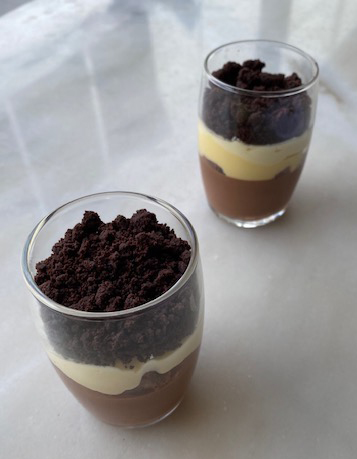 Photo: courtesy of Belinda Leong
Renowned pastry chef Belinda Leong, owner/chef of the critically acclaimed b. Patisserie, has created delicious creations for Restaurant Gary Danko in San Francisco, Pierre Hermes in Paris, Bubo in Barcelona, In de Wulf in Belgium, Manresa in California and the two Michelin-starred Noma in Copenhagen. She shares her Chocolate Lilikoi Verrine recipe with Hashi. Photo: courtesy of Belinda Leong
Chocolate Lilikoi Verrine
Serves 4 | By Belinda Leong
Chocolate Cremeux
1 2/3 cups milk
1 1/2 cups heavy cream
5 egg yolks
1/2 cup sugar
2 1/4 cups  70% cocoa Chocolate
Bring the milk/cream/sugar to a scald and temper in the egg yolks. Thicken until it coats the back of a spatula or spoon. Then strain over the chocolate and blend with an immersion blender. Pour into 8 oz. cups about halfway up. Put into the refrigerator for 3-4 hours to set.
Lilikoi Whipped Ganache
3/4 cup Passionfruit Puree
1 1/4 teaspoons gelatin
1 3/4 cups white chocolate
1 1/2 cups heavy cream
Bring the passionfruit puree to a boil, then add the gelatin. Pour over the chocolate and emulsify. Then add the heavy cream and mix well. Let is sit in the refrigerator overnight. The next day, place into the mixer with a whisk attachment and whip until fluffy. Use a pastry bag to pipe into the cups filled with the chocolate cremeux.
Cocoa Nib Chocolate Crumble
2 5/8 cup all-purpose flour
1 cup granulated sugar
1 1/3 teaspoons kosher salt
1 cup cocoa powder
1 cup butter, room temperature
cocoa nibs (candied with simple syrup in the oven)*
Mix all the dry ingredients, then add the butter and work until a crumble texture. Chill in the refrigerator for a few hours, then bake in the oven, 385 degrees F for about 10-12 minutes, and mix during the baking. Cool and mix with the candied cocoa nibs. 
*Candied cocoa nibs. (To make the candied cocoa nibs- toss cocoa nibs in simple syrup (1:1 ratio sugar to water) and toast in the oven until caramelized.