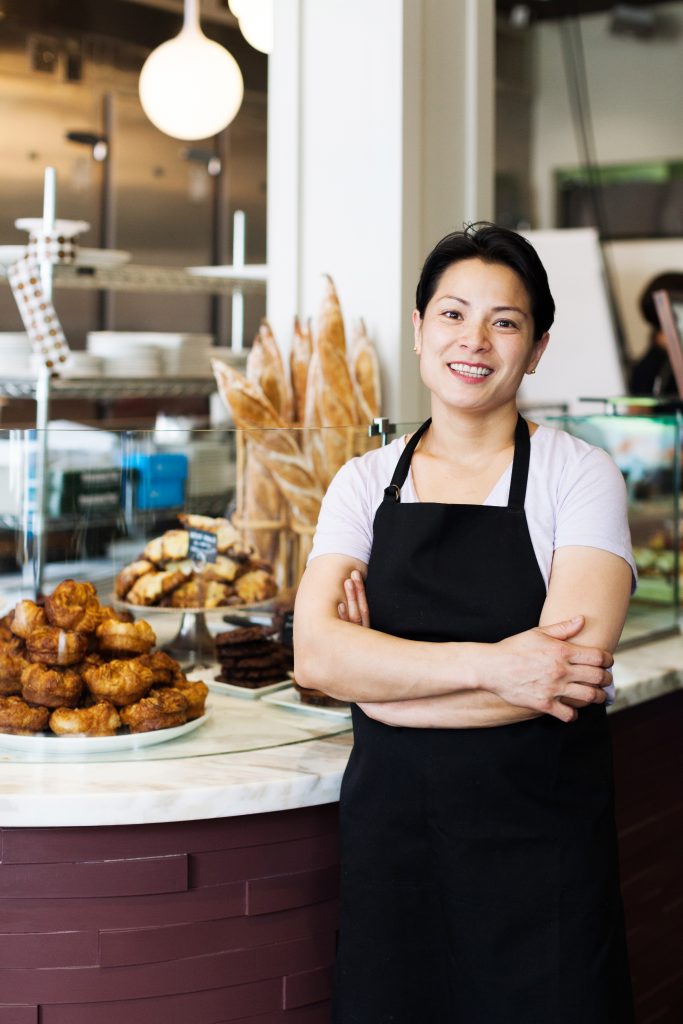 Photo: courtesy of Belinda Leong
Belinda Leong
San Francisco, CA
Pastry Chef: b. Patisserie
Participating Event: Food Fight & Bloody Marys, November 5
How many times have you participated in the Hawaii Food & Wine Festival?
This will be my first time, yah!
Name three things that you associate with Hawaii.
Spam, beautiful beaches and waterfalls, and awesome fish.
Which local restaurants are on your list of Hawaii hotspots and why?
Ethel's Grill – Just great local food.
Helena's – Great short ribs.
Marukame Udon – It's close to the bakery, and it's simple and good.
Sushi ii – The fresh fish.
Izakaya Gaku – The variety of dishes.
Senia – Food is beautiful and so good, and Anthony and Chris are so talented.
Pig & the Lady – Just great food.
Golden Pork – The black garlic tsukemen … mmmmm..
Musubi Café Iyasume – Musubis, of course!
Which local ingredients excite you?
Fish, pineapples, and mangoes.
Best way to spend a day in paradise?
Driving along the highway and finding the deserted beaches, relaxing in the sun.
Best beverage or cocktail choice to enjoy at sunset?
Glass of champagne or rosé.
What's your favorite culinary pairing?
Passion fruit with cream cheese, or with yogurt, or with chocolate, or with vanilla, or with orange… I LOVE passion fruit!
Fill in the blank. Everything's better with ______________.
BUTTER.
True or False? I love social media.
False.
What's your must-have souvenir to take home from Hawaii
Of course it's always food… sometimes Helena's ribs, musubis, and snacks from Wholesale Unlimited.
It's been a few years since our last interview – what have you been up to?
We have opened 3 locations in Seoul, Korea, so my business partner, Michel and I have been traveling there 3-4 times a year pre-covid. We partnered up with John Paul Carmona and opened our restaurant called Routier. John Paul was the chef de cuisine of Manresa in Los Gatos for 5 years, and we met when I was the pastry chef there.  The restaurant opened right when covid happened so it's been up and down, but just staying afloat and riding it through.  I currently work at the bakery in the morning and at the restaurant in the evenings.
2020 was a tough year for the food and beverage industry, how did you spend your time? 
How did you have to pivot?
Definitely a tough year! We were closed in the very beginning of Covid, at the bakery for about a month and a half, but we reopened for 3 days a week. There weren't many people out, so it was too slow on the weekdays. We started only opening 5 days beginning Jan. 2021. During the closure, we still had b. on the Go open and we started selling pastries there. We started doing online ordering, b. on the road (pastry pre-order pick up in different cities), our display at the bakery is split into two displays now (for social distancing) with safety guards.
What are you most looking forward to in 2021?
I am looking forward to seeing people come out more, seeing familiar faces again, hoping to hug people soon, eating out more often, and hopefully soon. No more masks!!! At Routier, it's been so nice to see and help serve customers and just seeing our city come back to life a little.
What do you miss most about coming to Hawaii for HFWF?
I miss the people and the sun. I miss the reunion between chefs and all the guests enjoying the great food and celebrating Hawaii's heritage and culture. Also, I would be able to spend time with my staff. I miss seeing them and not being able to work beside them. I miss eating Hawaiian food.