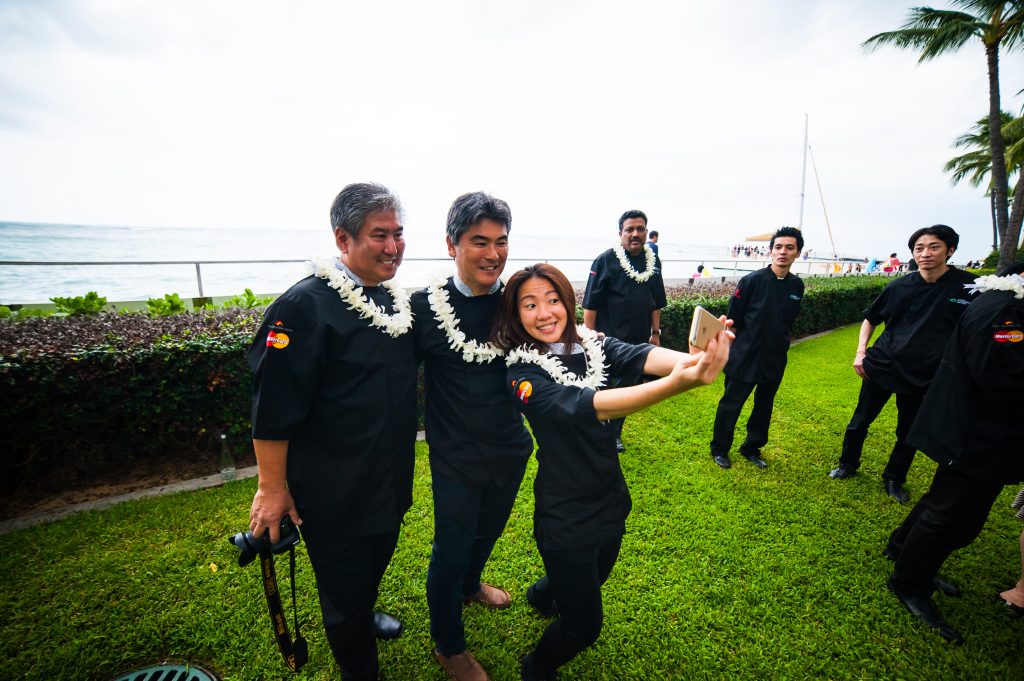 Photo: courtesy of Janice Wong
Janice Wong
Holland Village, Singapore
Pastry Chef: 2am:dessertbar
Signature Event: Foodtopia
What do you look forward to most about coming to Hawaii for the Hawaii Food & Wine Festival?
I look forward to meeting chefs and locals in sunny Hawaii, especially the high energy during the food festivals.
The festival strives to bring together the world's best chefs, winemakers and mixologists. Name 3 people you would invite if you were putting together your own "culinary dream team" and why.
Alex Stupax, Rosio Sanchez, Jordi Roca. They constantly challenge themselves to thinking different and push the boundaries.
Is there a local ingredient that you are excited about working with in Hawaii?
Banana, flower and mangoes.
What is among your favorite memories of coming to Hawaii and/or the HFWF?
The warmth and friendliness people and the exchange of culture. We all had a really good time, whether its on the other side cooking for the guests or eating.
What's one thing that you like to eat or drink that might surprise people?
Cheeseburger with lots of cheese and tomato sauce.
What's your favorite late night snack or night cap?
Blueberries.
Best indulgence — dessert, dish, or drink?
2am's Tiramisu. I head to my bar once every 2-3 weeks for this dessert.
Lychees are a favorite fruit in Hawaii. If our festival were in the summer and you were asked to feature lychee in your dish, what would you choose to do?
I would do a floral lychee ice cream bowl, lychee hibiscus ice cream, rose transparent jellies, fresh raspberries and macademia cookies.
What's the coolest highlight of you career so far?
Opening a dessert bar in Tokyo.
What's the best (or worst) advice anyone ever gave you?
Quit.
What's on your bucket list?
To dive with sharks.
It's been a few years since our last documented interview – what have you been up to? 
We have since opened up in South Korea and are working on more innovative chocolate confectioneries. I'm also currently working on a new dessert book as well and a new ice cream concept.
2020 was a tough year for the food and beverage industry, how did you spend your time? How did you have to pivot?
When everyone was in lock down we had to think of how to bring the Janice Wong experience to you at your home. We also did take away desserts from 2am: dessertbar where through videos guests will be able to plate the desserts like how we plate them at 2am.
We also created a new brand, Bake at Home with Janice Wong (www.bakeathome.online) where we have a line of premixes. There is also a YouTube channel where you can learn how to bake at home with us using those premixes. The concept also includes at fun activities like an edible art kit with chocolate paint and crayons.
What are you most looking forward to in 2021?
Looking forward to launching our new Brand of confectionery in Singapore and hope it will go overseas as well 
 What do you miss most about coming to Hawaii for HFWF?
I miss the community most, I remember the wonderful energy and exchange of conversations of the chefs and guests during the event. It was very warm and fun.