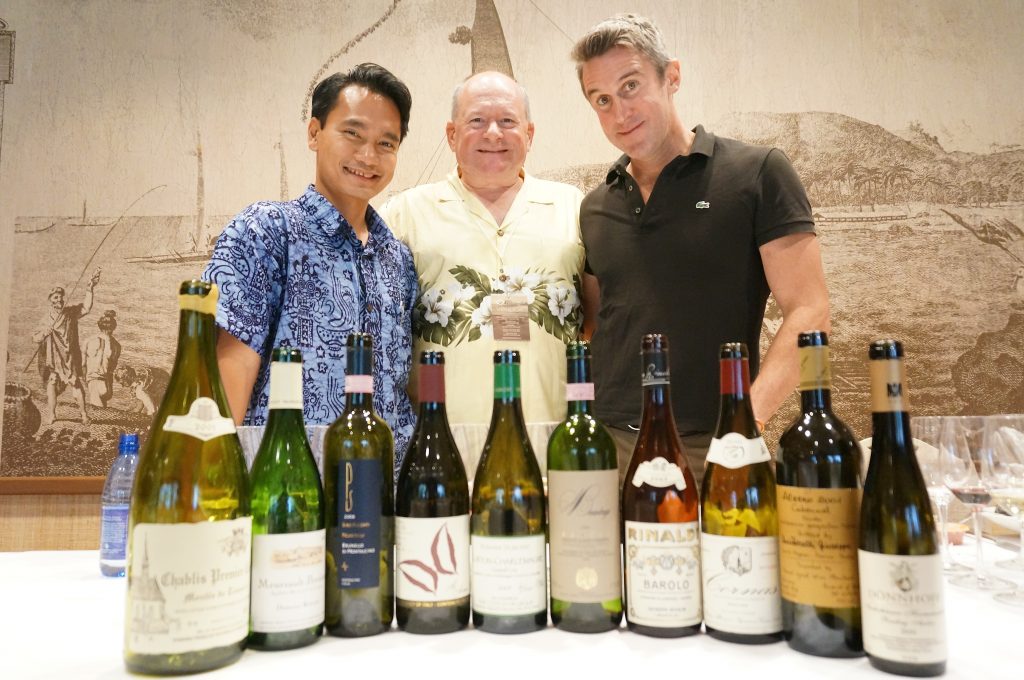 Master sommeliers Roberto Viernes,  Joseph Spellman and Richard Betts. Photo: Ed Morita/Hawaii Food & Wine Festival, 2013
Joseph Spellman
Master Sommelier
Signature event: Master Sommelier Favorites, Sept. 12
What's been your favorite part of the Hawaii Food & Wine Festival?
Great wines from great producers. Fantastic vertical tasting from top Napa wineries. Those are the most memorable.
If you had a full free day to spend it as you like here in Hawaii, what would be on your list of things to do?
I have already experienced on previous visits many of the natural wonders and classic tourist sites–volcanoes, roads, whales, beaches. I would enjoy spending part of a day out with a small fishing crew learning about the techniques of harvesting some of the unique delicacies around the islands. And I would also enjoy a respectful and admiring part of the day viewing indigenous art and artifacts with some guidance from a knowledgeable curator. The day would wrap with a refined seafood dinner accompanied by live slack-key guitar playing and classic songs.
When it comes to food, what's your guilty pleasure?
Encased meats.
What type of wine would you pair with Portuguese sausage?
Lucky for me, I visited Portugal in late 2019 and tasted a wide variety of specialties in and around Lisbon. The variety of "linguica" sausage flavors is fantastic, and how they have been incorporated into Hawaiian food culture is delicious. I am a big fan of the spicier, hotter style, as it is typically slightly sweeter in the Hawaiian versions–and I find a clean, dry sparkling wine is ideal to match up well. Particularly if the mealtime is a late breakfast or brunch. At the pinnacle would be a classic "blanc de blancs" Champagne from a grower-producer like Pierre Peters or J. Lassalle, and at a more accessible range I would enjoy a fine Spanish Cava from Juve y Camps or Raventos I Blanc! The elegance of flavor and the "scrubbing bubbles" make every bite a delight!
What's your favorite place/dish to eat while you're in Hawaii?
That's not fair, but I love the sushi and various noodle shops. For high-end, Nobu Waikiki. Lowball? Marukami for a hangover.
What's your favorite ingredient right now?
Pimente d'Espelette, an AOP red chile powder from southern France.
What's one thing you'll never eat and why?
Cobra heart. I'm not Anthony Bourdain!
What's your favorite dish from your childhood?
Spaghetti and meatballs.
What's the best part about your job?
Camaraderie with great wine minds.
If you weren't a sommelier, what would you be?
A fiction writer — with Hollywood cred!