Close your eyes. Take a bite of spicy street tacos, fried catfish, fresh shoyu poke. Where do you find yourself? How do these flavors and these ingredients transport you, not only your taste buds, to another region?
If food embodies culture, then cuisine has the ability to define an area. For decades, classically trained American chefs have traded in the elaborate rules of their European counterparts, instead revisiting the recipes and ingredients of their childhood.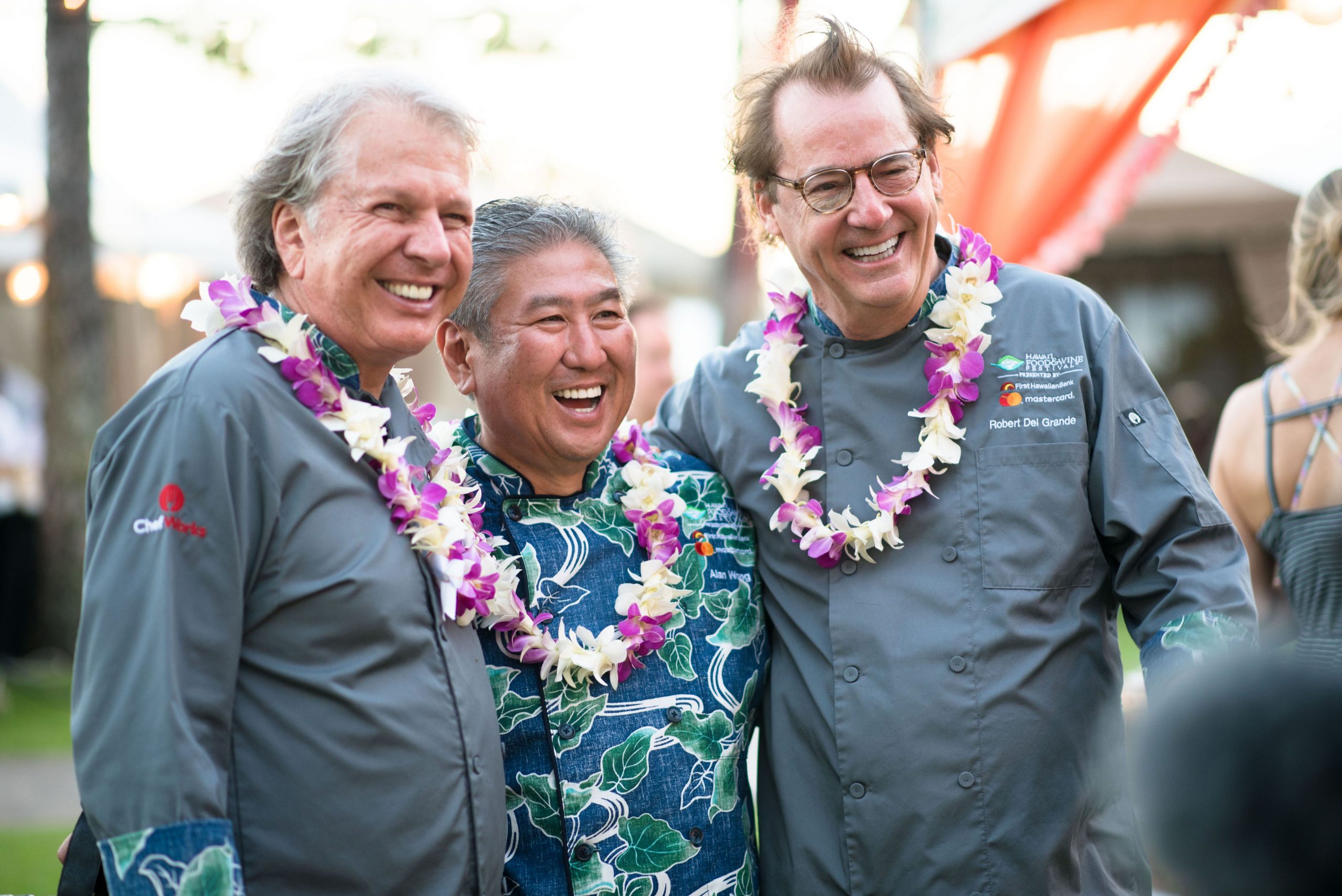 Alan Wong with Southwestern cuisine legends and bandmates Dean Fearing and Robert Del Grande. Photo: Hawaii Food & Wine Festival/Kris Labang, 2018
For chef Dean Fearing, local flavors and indigenous products have always been an inspiration, "from the wild game of South Texas and great wagyu beef of North Texas, to the buffalo in Western Oklahoma and fish in the Gulf. When I moved to Texas, I fell in love with the flavors of both Tex-Mex and true Mexican foods, and wanted to take a more regional approach to cuisine as a representation of where I was from."
In the early 1980s, Dean Fearing was part of group of revolutionary Texas chefs who were blending the culture and ingredients of the Southwest into a new category of cuisine. Along with two other Hawaii Food & Wine Festival veterans, Stephan Pyles and Robert Del Grande, plus Anne Greer McCann and Avner Samuel, these bold chefs with different backgrounds created the flavors of Southwestern Cuisine — the flavors now recognized all around the globe.
Embracing the moniker given by a Dallas food writer Liz Logan, the "Gang of Five" wanted to change the way the Southwest and the world thought about quality food. Like their regional counterparts in the Southeast who had heralded Cajun Cuisine to the culinary frontlines, the Gang sourced local and seasonal ingredients to maintain the highest quality.
"Southwestern Cuisine came to its full fruition when a small group of chefs (myself, Dean Fearing and Robert Del Grande) were introduced by Anne Greer McCann because we were cooking with a similar style, focusing on local and regional ingredients and techniques," recounts Chef Stephan Pyles.
"When I first opened Routh Street Café in 1983, I was determined to serve a cuisine that was distinctly American, something pretty radical in a city (and country, for that matter) where refined cooking was closely associated with French Cuisine," says Pyles. "As I became more focused on local foods, my fifth generation Texan sensibilities came to the surface…The idea to use chiles, tortillas, and a host of other Texan and Mexican ingredients in my menus was both like an awakening and a home-coming."
Ingredients essential to Southwestern Cuisine and the flavors they created went global. Defining ingredients like peppers, spices, tortillas, cheeses even claimed space on grocery store shelves. But while the regional cuisine grew in popularity, the critical aspect of cooking local remained.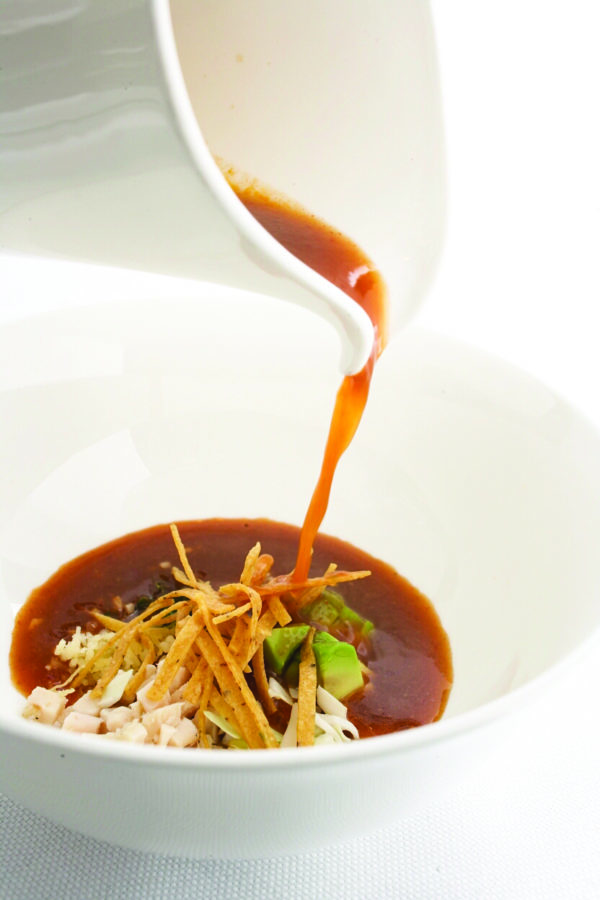 Dean's Tortilla Soup with South of the Border flavorings served at Fearing's Restaurant. Photo: courtesy of Dean Fearing
"As Cajun Cuisine paved the way for Southwestern, we were perhaps the catalyst for the New World Cooking movement of South Florida as well as the regional food movement in Hawai'i," says Pyles.
Pulling from his experiences navigating the explosion of Southwestern Cuisine, Chef Fearing helped the pioneers of Hawaii Regional Cuisine (HRC) in 1991. Committed to supporting local farmers by using the finest locally grown ingredients on their menus, the twelve founding chefs looked to the Gang of Five for inspiration.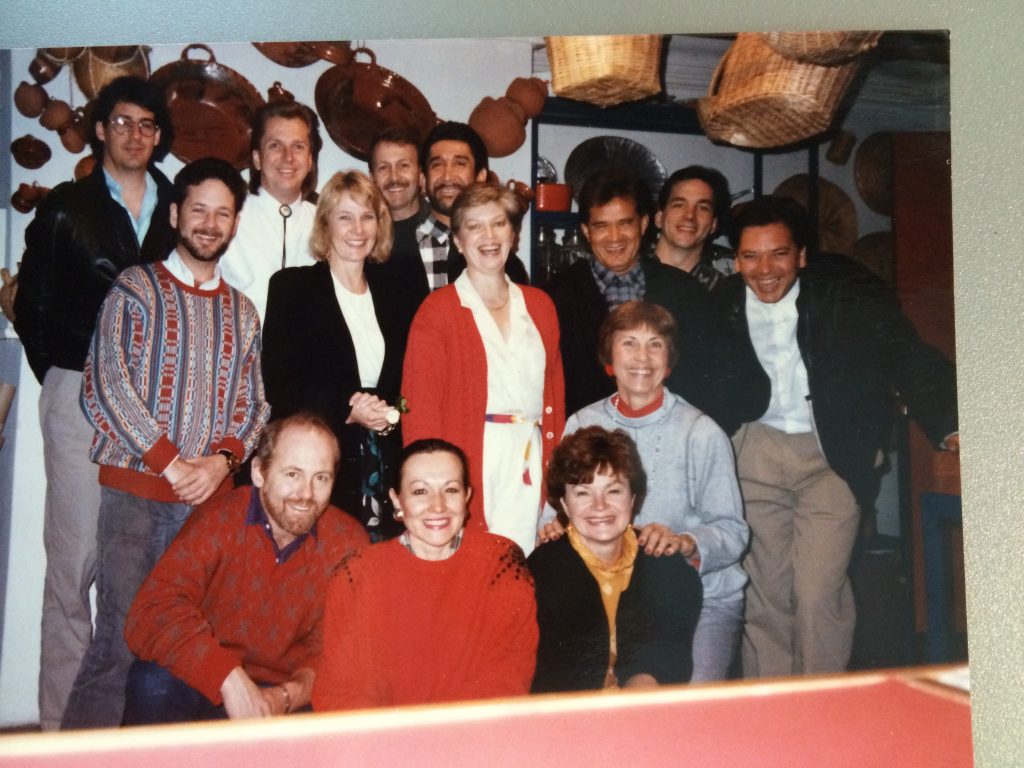 Robert Del Grande, Dean Fearing and Stephan Pyles join other notable Southwestern chefs at Patricia Quintana's ranch in Vera Cruz, circa 1990. Photo: courtesy of Stephan Pyles
"When people like Dean Fearing, Roger Verge, Shep Gordon and Amy Ferguson recognized what we were doing in Hawaii as an emerging cuisine, it started to give us instant credibility," recalls chef Alan Wong, one of the twelve chefs to establish HRC. "Amy had helped to pioneer the Southwestern Regional Cuisine movement, and we are the second group that she helped. She always thought about ingredients that were only used at home that needed to make their way onto the menus in the restaurants in Hawaii."
"Sourcing locally, such as from farmers in a 20 mile radius, plays an integral part in maintaining the true integrity of both Southwestern and Hawaii Regional Cuisines. My hope was for Hawaiian chefs to utilize local products and indigenous ingredients from the island; to stand by their style of cuisine, and to take advantage of what their region had to offer."
HRC was founded on similar principals of cooking local and embracing flavors from the land in order to truly reflect its Island culture and elevate its culinary scene.
And following the path of Southwestern Cuisine, elements of HRC can be found beyond the Islands. Wong shares, "What is happening globally has been happening in Hawaii for many years. For example, food trucks have been in Hawaii since the Yasai man, which was born out of the plantations, and several years ago there was the food truck boom on the mainland. Now, Okinawan foods and ingredients are getting more awareness."
As the culture and food trends continue to evolve, rising chefs find opportunities to establish new flavors. If the palates are ready, this will give way to new regional cuisines.
"Slowly we will start to see other cuisines getting more traction, which is always a great thing. The world is embracing what we did and are continuing to do. It puts the spotlight on Hawaii and what we are doing."

—Alan Wong