My food philosophy has long been based on three main tenets: The best culinary delights are derived from ingredients that are found locally; food needs to be kept natural; and success comes from preparing meals using ingredients that will enhance the dining experience.
Upon moving to Hawaii, I was encouraged by the vast resources available at local farms, ranches and dairies. As fate would have it, my arrival in the Islands coincided with a global campaign by Hyatt to serve food "thoughtfully sourced and carefully prepared." As a result of this revolutionary moment in time, I was able to make culinary advancements that included the creation of a kitchen herb garden, the launch of a statewide culinary campaign for youth and the addition of a bee apiary.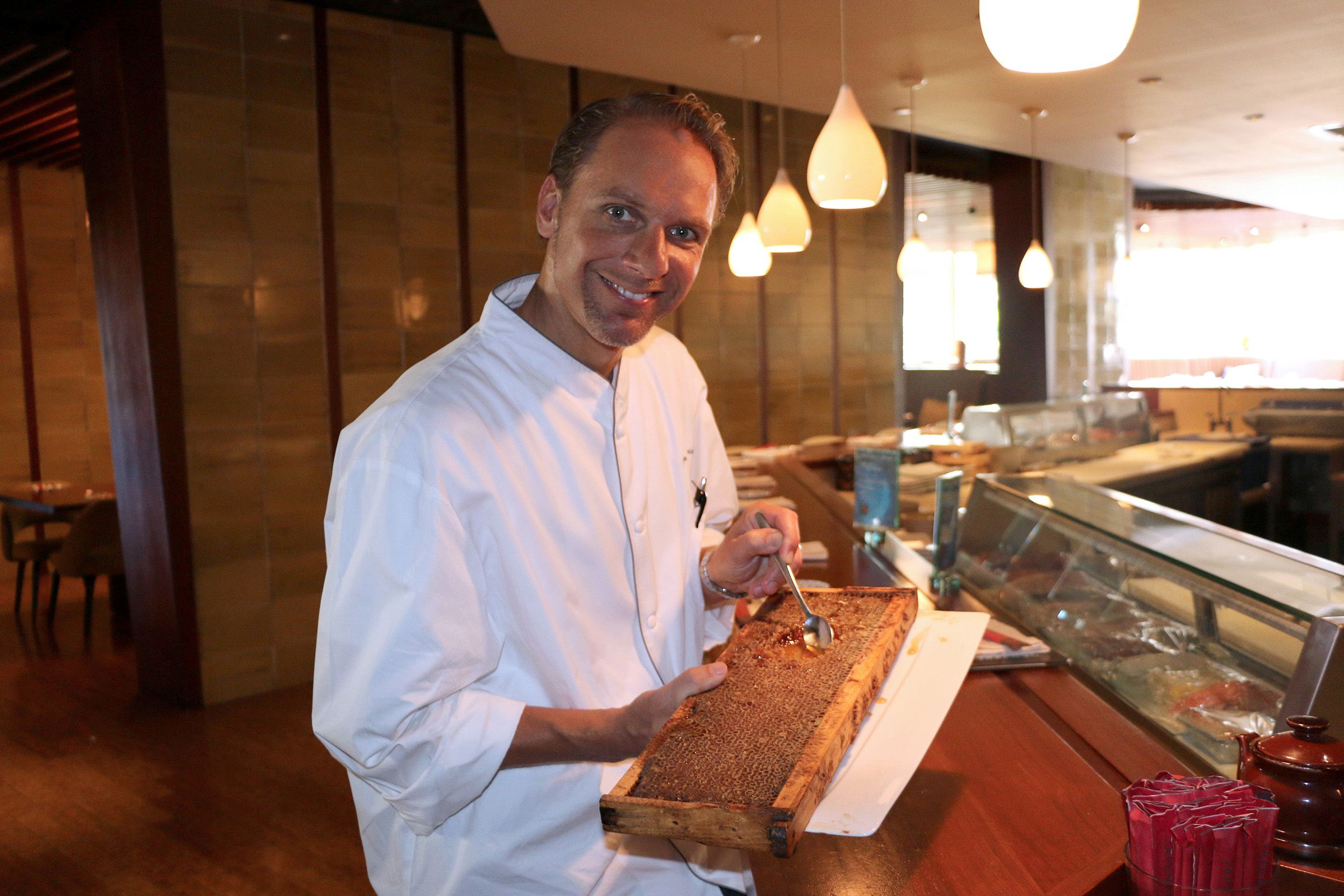 "The more we understand about our local environment and what it produces, the more we can limit the distance it takes to procure food."
Chef Sven Ullrich with a sample of the hotel's private brand of Hula Meli, or Dancing Honey. Photos: courtesy of Sven Ullrich/"Taste Our Love for the Land," 2015
The Chef's Garden is located on the Hyatt Regency Waikiki's third floor terrace and includes all the rosemary, basil, thyme and other herbs needed for three restaurants and the daily meals for our 600-plus associates. This garden is planted and maintained by the hotel's Green Team volunteers, and many guests and associates have commented on the unique and gratifying experience of watching our chefs pick their menu ingredients. Recently, an aquaponics garden was also added to the third floor waterfall. With beautiful koi and taro plants taking up much the space, it's hard to believe that the rows of Red Oak and Green Leaf lettuces are harvested bi-weekly and then used in a variety of our restaurants' dishes.
My food philosophy extends into the home as well. I believe that the more we understand about our local environment and what it produces, the more we can limit the distance it takes to procure food. With this in mind, I was fortunate to partner with local schools and nonprofit agencies to provide in-room class demonstrations as well as cooking contests that focus on using local ingredients. A class favorite has been when I bring honeycombs and let the students see with their own eyes how the honey is gathered—it makes a huge difference in the learning experience.
As one of the only hotels in Waikiki with a bee apiary, the Hyatt Regency Waikiki also plays a big role in the sustainability discussion. With 80,000 bees producing roughly five gallons of honey at each harvest, the environment thrives from the work of the bees, while the hotel is able to replace all honey sources with our incredible hotel-harvested Hula Meli (Dancing Honey). The honey is used in our restaurants, for staff meals, at the spa and at Hyatt's own Waikiki Farmers Market.
I may be an expat in this tropical paradise, but I am touched by the raw beauty that has opened my eyes to seeing things through the lens of nature. I am proud to participate in the Hawaii Food & Wine Festival and will take part in this event as long as I'm allowed to! 
Island-Style Salade Nicoise
Serves 10 | By Sven Ullrich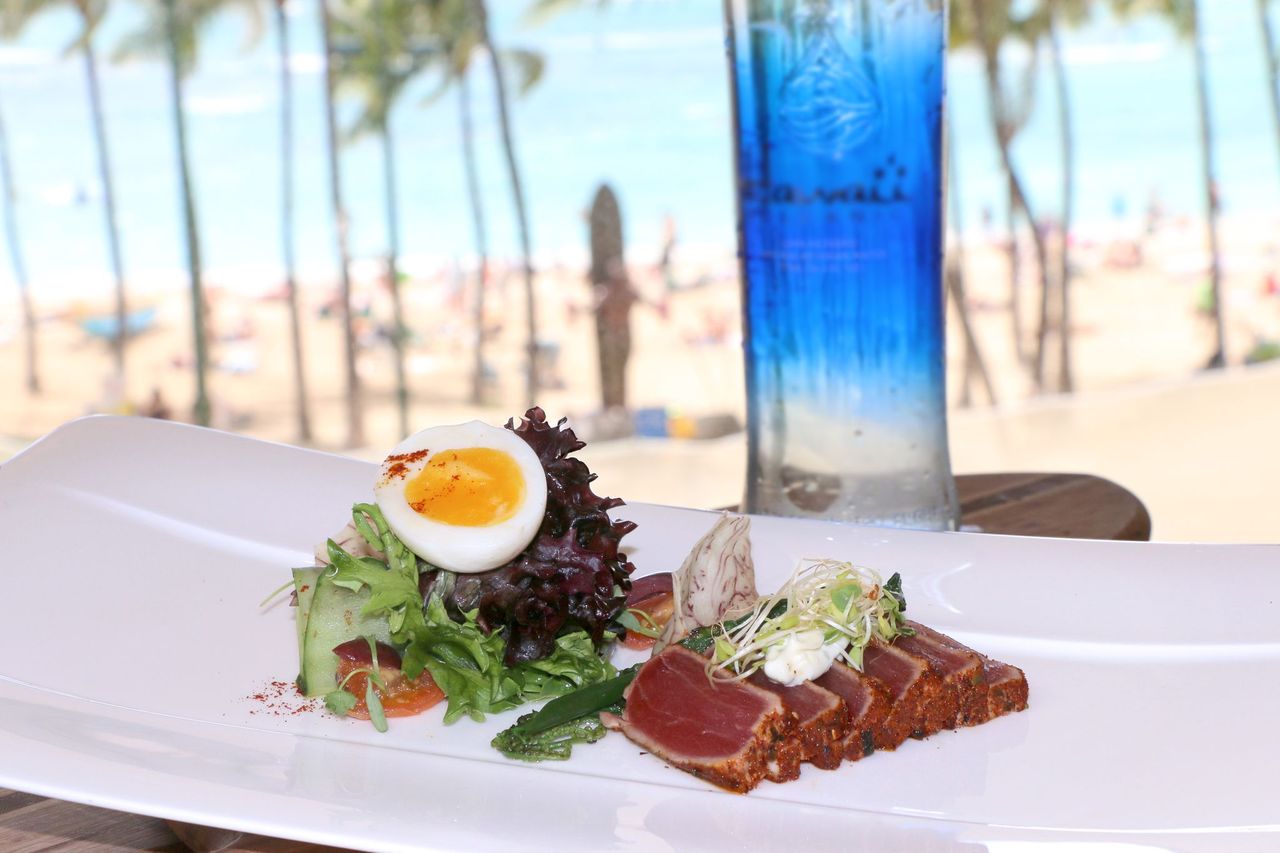 Island-Style Salade Nicoise
Serves 10  |  By Sven Ullrich
1.8 pounds yellowfin tuna
Togarashi Spice Rub (recipe follows)
5 Ka Lei eggs
10 pieces warabi (fiddlehead fern)
2 cucumbers
10 black-pitted kalamata olives
8 ounces aquaponic greens
30 small Ho Farms tomatoes
1 clove garlic
½ bunch basil
6 ounces Waialua clover sprouts
20 taro chips (see note)
5 tablespoons extra virgin olive oil
1 tablespoon champagne vinegar
Salt and pepper to taste
Cut tuna into 3-ounce pieces, coat with Togarashi Spice Rub and sear quickly in a hot pan. Boil eggs for around 8-10 minutes until yolk center is waxy. Blanch warabi and season with salt, pepper and olive oil. Wash and clean lettuces, toss with olive oil, champagne vinegar, salt and pepper. Slow-roast tomatoes for around 1 hour at 180°F with garlic, basil, olive oil, salt and pepper. Slice cucumbers lengthwise on a slicer, as thin as possible. Cut olives into quarters.
Note: To make your own chips, thinly slice taro, blanch in water for 30 seconds and deep-fry until crispy.
Togarashi Spice Rub
2 tablespoons sweet paprika
1 tablespoon salt
1½ tablespoons cumin
1½ tablespoons coriander
1½ teaspoons ginger
1½ teaspoons garam masala
1½ teaspoons togarashi (Japanese chili pepper powder)
4 teaspoons ground furikake (Japanese seaweed seasoning powder)
Mix all ingredients together.
Nalo Farms Herb Tapenade
1 bunch fresh parsley
½ bunch tarragon
4 cloves garlic
1 quart mayonnaise
4 stalks scallions
1½ teaspoons white wine vinegar
8 fillets anchovy
Clean and dry parsley and tarragon and remove the stems. Peel garlic. In a food processor, combine all ingredients. Blend until mixture is smooth and creamy. Store in an airtight container.
To assemble: Toss lettuce with dressing, wrap it into the cucumber slice and garnish with warabi fern. Place ½ boiled egg on tossed lettuces. Spread 3 of the roasted tomatoes together with olive wedges around the plate. Slice the tuna carefully into approximately ¼ inch thick slices. Fan the tuna slices next to the lettuce. Form a quenelle of the Nalo Farms Herb Tapenade and place it on the ahi. Garnish the tapenade quenelle and ahi with Waialua clover sprouts. Use the taro chips to garnish the dish.