For chef Brian Hirata, preserving Hawaii's food culture and progressing local cuisine — through sustainable practices and local ingredients — will perpetuate the culinary hertiage for Hawaii's future.
Launched in June 2019, Naau Hilo puts into practice Hirata's philosophy by utilizing the fine-dining to showcase wild and locally sourced ingredients and facilitating an "understanding and appreciation of the food, people and cultures that make Hawaii so special." Beginning with pop-up experiences, collaborations and private dinners, Naau Hilo continues to strive forward amidst the global pandemic that threatens the culinary industry in Hawaii and beyond.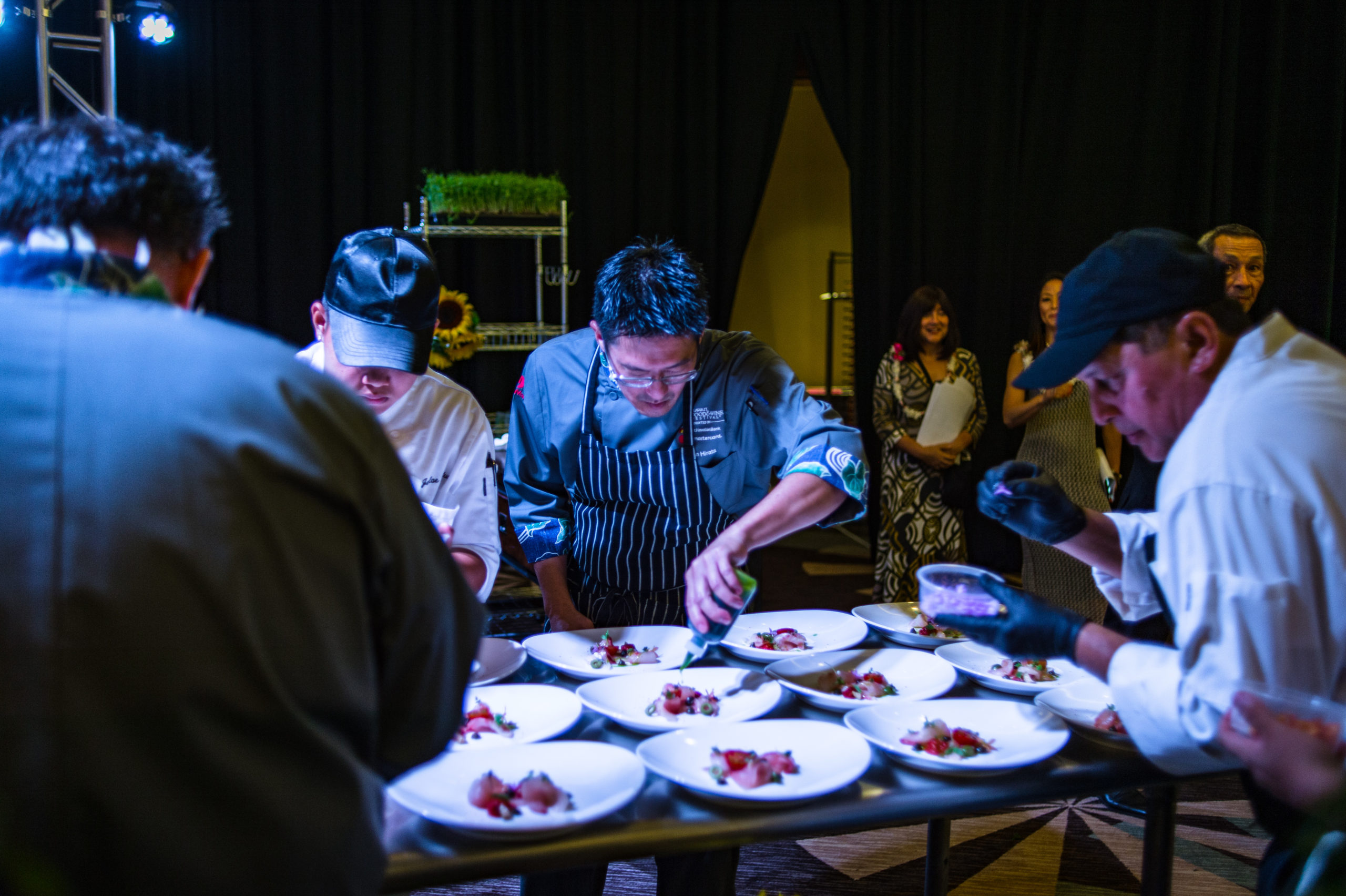 "I don't want our local ingredients to be overshadowed by these types of imported ingredients."
Brian Hirata focuses on preservation of the Hawaii food culture and culinary heritage through education and his concept, Naau Hilo. Photo: Dane Nakama, Hawaii Food & Wine Festival, 2018
Our mission "To preserve Hawaii's food culture while progressing the local cuisine" serves as a reminder that Hawaii's food and people contribute to its uniqueness. At Naau, we strive to preserve the knowledge and diversity of Hawaii's food culture by celebrating Hawaii's flavors and ingredients, while progressing the local cuisine to become a part of a global food dialogue and be recognized with world-renown cuisines. Through Naau, I strive to showcase to the world the truly local ingredients that we have in Hawaii.
[The dish] needs to have a strong connection to Hawaii's culture and cuisine, and the featured major ingredients need to be sourced from Hawaii. This focus on truly local ingredients is a big reason why I don't ever put imported luxury ingredients like foie gras, scallops, truffles or caviar on my menus. Those ingredients do not come from Hawaii, and I don't want our local ingredients to be overshadowed by these types of imported ingredients.
Uala (Sweet potato) Palak Paneer
Yield 3 cups | By Brian Hirata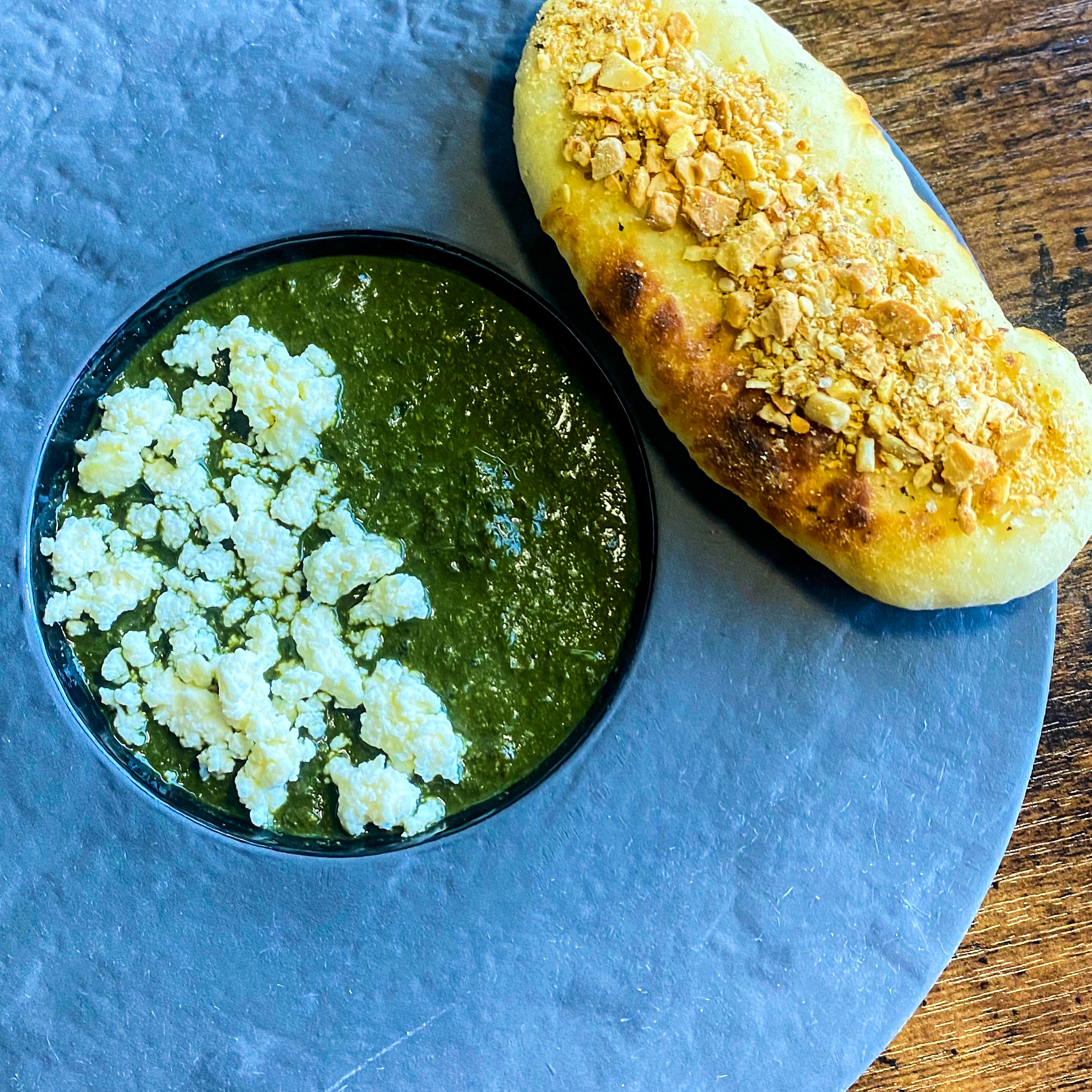 Photo: courtesy of Brian Hirata
Uala (Sweet potato) Palak Paneer
Yield 3 cups | By Brian Hirata
3 cups lightly packed uala (sweet potato) leaves
1 green chili (Thai or serrano), small dice
1⁄4 cup raw cashews
4 tablespoons vegetable oil, divided
2 whole cardamoms*
1-inch cinnamon stick*
2 whole cloves*
1⁄4 teaspoon cumin seeds, pre-toasted, ground
3⁄4 cup red onion, small dice
1⁄2 teaspoon garlic, minced
1⁄2 teaspoon ginger, grated
1 medium tomato, blanched, peeled, seeded, small dice
1 teaspoon kosher salt
1 teaspoon garam masala
1⁄2 teaspoon kasuri methi (fenugreek leaves; may also substitute with fennel fronds)
Salt to taste
Paneer (recipe follows)
Naan, for serving (recipe follows)
*Place in a small sachet bag for easy removal at the end of the cooking process.
In a medium sauce pot, blanch uala leaves for about 10 seconds, then shock in ice bath. Strain out ice water and dry leaves.
In a separate medium sauce pot, heat 2 tablespoons vegetable oil on medium heat. Add chilis and saute for one minute. Add cashews and uala leaves. Saute until uala is wilted (be careful not to overcook, as the uala will be added back to the sauce towards the end of the cooking process). Remove uala mixture from pot and cool.
Blend uala mixture on high until smooth. Set aside.
In the same pot, add another 2 tablespoons of vegetable oil and lightly saute the sachet bag of spices until fragrant. Add the cumin seeds and red onions, and cook until translucent. Add garlic and ginger, and sweat for another minute. Add tomatoes, salt and garam masala. Cover and simmer for about 10 minutes, or until the tomatoes start to break down and make a gravy.
Once tomatoes are broken down, add back the pureed uala leaves. If you like your palak paneer runnier, add water based upon your preference. Crush kasuri methi and add to the pot. Simmer for another 5 minutes.
Add paneer cheese to heat through. Add salt to taste. Remove spice sachet. Serve with garlic ​naan​ or roti, and ghee.
Paneer
1 quart fresh, local, whole milk
1⁄4 cup lemon juice
Pour milk into large sauce pot. Bring milk to a full boil, stirring constantly to prevent any sticking or burning. Reduce to low and stir in lemon juice. Gently stir mixture in one direction to mix in the lemon juice.
Remove pot from heat. Large soft curds should form. If no curds have formed within 1 minute, return pot to heat for a few minutes and/or add more lemon juice. As soon as curds have formed, cover and set aside for 10 minutes.
Pour contents (curds and whey) into a cheesecloth-lined colander. Gather corners rinse off the outside of cheesecloth. Allow to drain for 3 hours (may be pressed with a clean, plastic-wrapped weight). Store in a paper towel-lined container in refrigerator for up to 4 days.
Naan
Yields 4 breads
1⁄3 cup whole milk
1⁄3 cup Greek yogurt
1⁄2 teaspoon yeast
1 teaspoon sugar
1 3⁄4 cup + 2 tablespoons all-purpose flour
Pinch of kosher salt
1⁄2 teaspoon baking soda
1 tablespoon vegetable oil
Ghee
In a small bowl, combine milk and yogurt, then add to a mixer bowl with dough hook attachment. Sift yeast, sugar, flour, salt, and baking soda. Add to wet ingredients and mix on med-low speed until a smooth dough forms (about 3-4 minutes).
Coat a stainless steel mixing bowl with vegetable oil. Roll the dough into a large ball. Cover and let proof until doubled in size.
Once proofed, divide the dough into 4 pieces, and roll each into an oval of approximately 4 inches by 6 inches, and 1⁄8 inch in thickness. If you do not plan on cooking the dough immediately, you may either freeze the dough with parchment
paper separating each piece, or store in the refrigerator for a day.
Brush ghee on the dough and cook on the hottest portion of the grill. Depending on the temperature of the grill, bread should take about 2-3 minutes on each side. *Note: Some charring on the bread makes it more flavorful.
Cut to desired size. Serve with curries, or simply smear roasted garlic butter and sprinkle with finishing salt (paakai or Maldon) and enjoy.