Travel to the eastern side of the Island of Hawaii to the town of Hilo, full of local flavors, adventures and unique scenes of nature, from black and green sand beaches to stargazing from the highest point in the Aloha State.
Mauna Kea Summit Adventures will take you to view the sunset and stars from the tallest mountain in the world. Photo: Paxton Tomko/Unsplash
8:00 a.m. | Munch on pancakes the size of the island
A delicious beginning to a trip to Hilo, Hawaiian Style Cafe offers "incredible portions of local style comfort food." The cafe "has a quaint diner feel that will take you back to the good ole days. With good music and a friendly staff, we always share our aloha through the food we serve and conversations had," explained manager Halen Tanimoto.
Known for their kalua pork hash, made in house with their unique seasoning, and homemade Portuguese sausage, Hawaiian Style Cafe serves breakfast all day. They offer many different types of "loco moco" spin-offs to introduce Hilo newcomers to this local favorite. Most importantly, Hawaiian Style Cafe's world famous massive pancakes "will satisfy a sumo wrestler" and are essential to a day in Hilo. "Since 2005, the pancakes have been a staple of our restaurant and we continue to experiment to make it even better. You can add 'The Original' haupia sauce or banana and macadamia nuts to enhance your breakfast experience." The huge pancakes can be ordered by themselves or as sides with another meal.
Tanimoto's peronal favorite dish is the Lechon. "Just imagine, deep fried pork belly, chopped and tossed in onions and tomatoes with a savory vinegar sauce. Then it's nap time." While you will leave Hawaiian Style Cafe energized and happy, you definitely won't leave hungry. .
10:00 a.m. | Enjoy a goat cuddle at Honomu Goat Dairy
Come see the "cuddle puddle" of baby goats with just a short drive from Hilo to Honomu. Honomu Goat Dairy, which sits at an elevation over 400 feet, overlooks Honomu and the ocean, is the perfect place for enjoying "a lovely morning, gentle breeze and baby goats." Visitors are invited to "hold the baby goats in their lap and cuddle them," explained owner Bill Henning, who has baby goats at the farm year-round.
In response to COVID-19 restrictions, Honomu Goat Dairy requires reservations to see the baby goats but returns the $5 reservation fee in the form of store credit because Henning believes "it's just not right to take money from people who want to play with baby goats." The store credit can be used to try their irresistible Dark Chocolate, Chocolate Chip fudge, in addition to their award-winning caramels, other fudges, cheeses and soaps.
This year, Honomu Goat Dairy is planning to launch a goat yoga program. Stop by the farm to experience a certified yoga instructor leading a beginner yoga class with one baby goat for each attendee! With creamy sweets that are "heaven in a pan," rejuvenating and environmentally friendly soap and packaging, homemade goat cheese and baby goats galore, Honomu Goat Dairy is definitely worth the short drive from Hilo!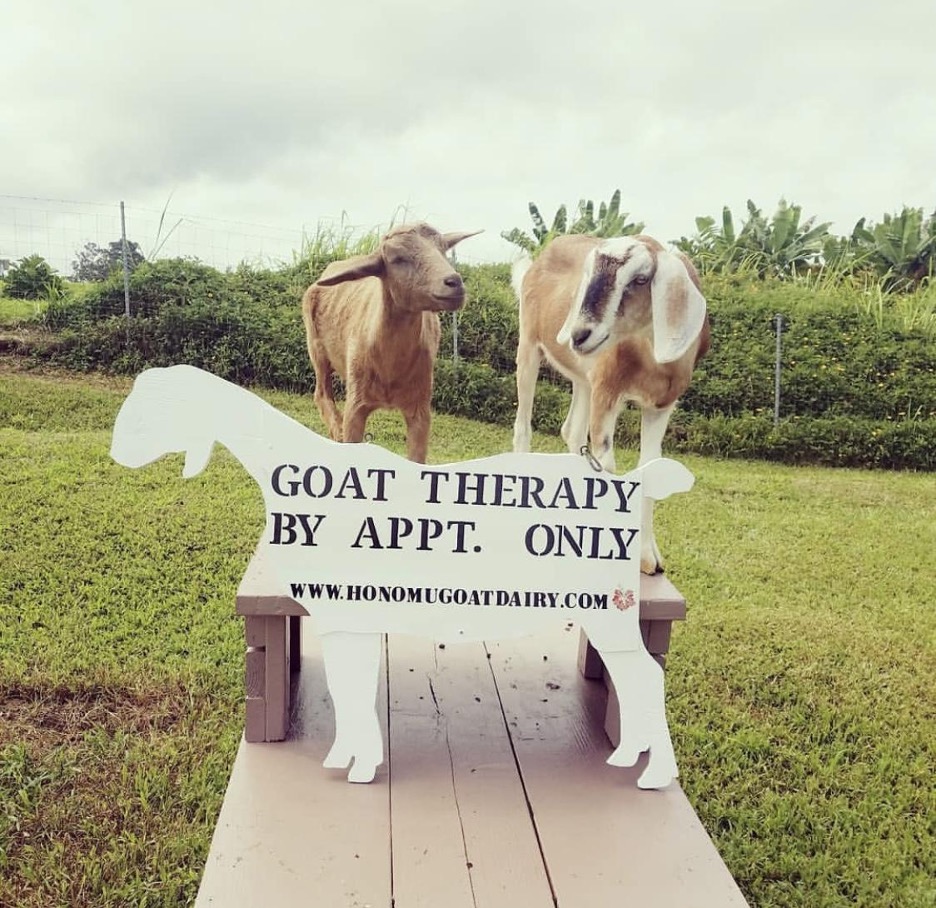 Honomu Goat Dairy is excited to welcome visitors back to play with and cuddle the baby goats. Photo: courtesy of @honomu_goat_dairy/Instagram
1:00 p.m. | Try the one pound laulau at Kuhio Grille
With incredible local food and generational recipes, Kuhio Grille is "a family friendly restaurant where we treat you like family, specializing in Hawaiian food, fried rice, breakfast, plate lunches, desserts and many more local comfort dishes." Their famous one pound  laulau is "filled with pork and beef, Hawaiian salt to flavor and steamed till its soft and juicy." Lauren Araki, daughter of owners Samuel and Nelline Araki, explained that the laulau was started by her Grandma Araki and that her favorite part "is the leaves because it soaks up all the flavors and it's so good." Araki strongly recommends the Kanak Atak LauLau, which is "like a mini luau for one!"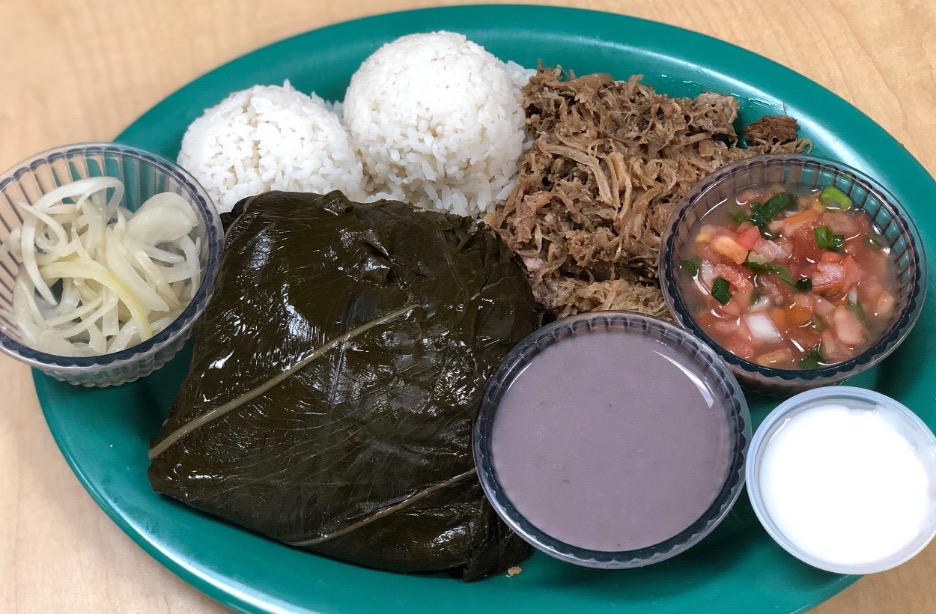 Kuhio Grille's Kanak Atak, featuring their famous one pound laulau, along with poi, lomilomi salmon, pickled onions, haupia, kalua pig and white rice. Photo: courtesy of Kuhio Grill
Homemade hamburger patties for hamburger steak, pancakes made from scratch, pork watercress tofu stir fry and yakitori chicken are just a couple of Araki's favorites. But, don't worry about getting overwhelmed with the amazing choices! "We have great servers and they're there to help you narrow down all the yummy choices." Recently relocated, Kuhio Grille is now able to offer beer and wine and has a beautiful view of Mauna Kea to enjoy during your meal.
3:00 p.m. | Journey on black sand and cool waters
"You can't get beaches like this anywhere else," said Lauren Araki of Kuhio Grille and she is absolutely correct. One of the many beautiful Hilo beaches and a local favorite is Carlsmith Beach Park, also known as Four Mile beach. The beach is perfect for sunbathing or picnicking on the open lawn before jumping in the cool water.
Carlsmith Beach Park is just a few miles away from Richardson Ocean Park, a black sand beach known as the best choice for snorkeling. Richardson's black sand is mixed with olivines, creating green sand and a great place for exploration. These two beaches, and others in Hilo, are fed by fresh water, forming ponds, cooling the water and reducing waves for a relaxing day at the beach. Bring some mochi, especially the famous strawberry mochi, from Two Ladies Kitchen for a sweet snack on the beach!
Lava flow in Hawaii Volcanoes National Park at sunrise. Photo: Jack Ebnet/Unsplash
5:00 p.m. | Sunset and stargazing on the volcano
The best place to view a famous Hawaiian sunset is from the top of the tallest mountain in the world, Mauna Kea. Take an easy, mostly walking hike on the Mauna Kea Visitor Center Sunset Hill Trail to enjoy the sunlit, calm end to the day. The scenic views from the top of the trail are once in a lifetime and worth the short trek.
If you are feeling more adventurous and are looking for a stunning view of the Hawaiian night sky from up close, join the Mauna Kea Summit Adventures Original Sunset and Stargazing Tour. Founder Pat Wright writes, "Journey with us to the top of this spectacular mountain in our 4×4 vans, enjoy a hearty meal, watch the breathtaking sunset and stargaze at the heavens."
For a "hotter" experience, travel a little further to Volcanoes National Park and witness the lava flow from Kilauea and Mauna Loa active volcanoes. No matter your mountain of choice, exploring a volcano, active or dormant, is an exciting way to connect to Hawaiian history and the formation of the islands.
9:00 p.m. | Well-earned rest at the Hilo Hawaiian Hotel
For the perfect spot to end the day and recharge, check in at the Hilo Hawaiian Hotel. The classic resort offers views of the Pacific Ocean and of Mauna Kea from full service rooms and amenities. Most guest rooms feature a private lanai, so you can enjoy the breeze after a long day in Hilo.