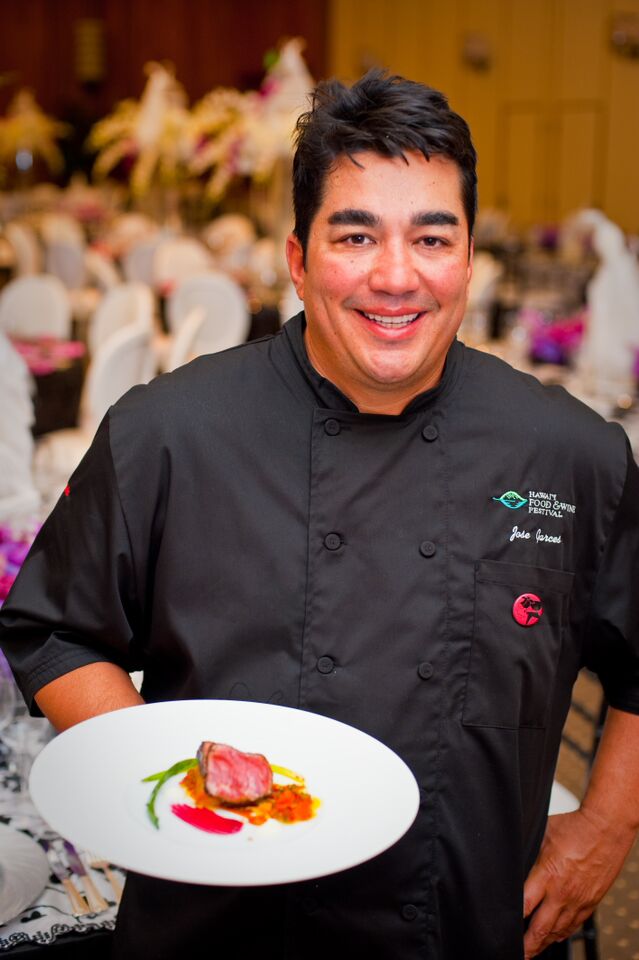 Photo: courtesy of Ed Morita
Jose Garces
Chicago, IL
Chef: Garces Group
Participating Event: From Portugal to Spain: An Iberian Feast, HFWF19
How many times have you participated in the Hawaii Food & Wine Festival?
Three times.
2020 was a tough year for the food and beverage industry, how did you spend your time? How did you have to pivot?
Whew. It was definitely a tough year. I was able to make two primary moves during this time that helped carry me through this pandemic. 
First, I started to focus on virtual events and content. I began production for Cooking Space, a series of short, highly stylized cooking videos that I released on my website and youtube. 
We did a LOT of virtual cooking classes and demos. For the most part, our clients are corporate, for team building exercises and product launches. People really enjoy the interaction and chef's tips and secrets. 
I tended to my family and my rooftop garden. While the pandemic was difficult, my family and I were able to take some much needed time to reconnect. I'm thankful that I had the privilege to make this type of use of the downtime. 
What has 2021 brought and what have you been up to? 
I launched the two concepts mentioned above. This was a great way to test the market and see whether or not our concepts had any legs. I'm happy to report that we are on our way towards opening our first Brick & Mortar stores for each concept as well as embarking on a multi-city licensing deal for Livy's. 
I'm opening up a pizza concept at the end of the summer called Hook & Master. We're going to be offering three distinct styles of pizza; thin-crust tavern style, Brooklyn style and pan pizza along with some curated small plates. We decided to go for a tiki theme for our bar program and plan on having a very serious rum selection.
What do you miss most about HFWF?
Definitely the camaraderie with the invited Chefs. It's a great getaway that I look forward to every year. Spending time with Denise, Roy, Allen and Aya, some of my favorite Hawaiians. I miss the Island vibes and natural beauty that I've been fortunate enough to experience annually. The serenity that comes with being there. Hawaii is so incredibly beautiful and welcoming.
Name 3 things you associate with Hawaii.
Hawaiian culture and good vibes

Warm, tropical breezes and beautiful weather

The incredible natural beauty / landscape
Which local restaurants are on your list of Hawaii hotspots and why?
I can't wait to get back to Leonard's Malasadas. I think about them way more often than is reasonable. I love those fluffy little puffs of delight. 
Anywhere Leeann Wong is cooking.
Roy's inspired Hawaiian cuisine.
What local ingredients excite you?
I'm forever fascinated by poi. I'm not sure what it is about it, and I'm not sure exactly how to use it, but it's interesting to me. 
What's your favorite culinary pairing?
Pork and pineapple! The sweet acidity of pineapple plays so nicely with all parts of the pig. 
Top beverage or cocktail choice to enjoy a Hawaiian sunset?
Maitais are great. They're a classic for a reason.
Must-have kitchen tool and why?
8" wusthof serrated utility knife can take on any task!
What are you looking forward to in the second half of 2021?
I've got a few restaurants and expansions coming down the pike, my daughter is off to college and I'm hoping to return to a sense of normalcy.