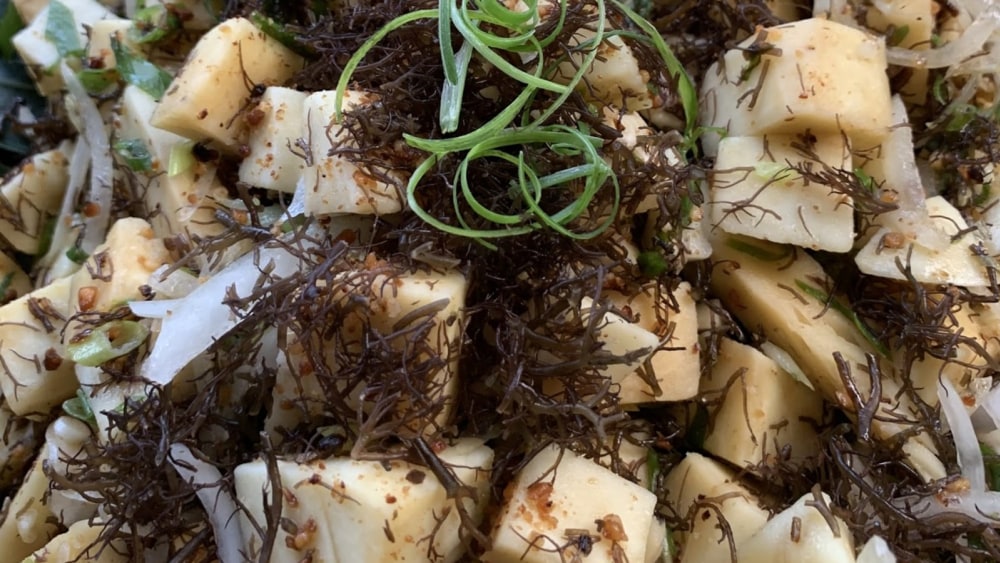 Local chef Kealoha Domingo created this nutty and savory Hawaiian style ulu poke recipe for Hawaii Ulu Cooperative. Photo: Kealoha Domingo
Ulu Poke
Serves 16 | By Kealoha Domingo
4 medium-sized ulu
Dressing
2 cups coconut aminos
1 ½ cups macadamia nuts
2 cups water
2 cups olive oil
1 tablespoon sea salt
¼ teaspoon cayenne pepper
Poke Ingredients
1-2 bunches green onion, finely sliced (⅛ – ¼ inch)
1 small/medium sweet onion or yellow onion, very finely diced
2- 3 cups cherry tomatoes, halved (avoid using the large tomatoes)
2-3 cups limu or ogo, as fresh and crunchy as possible
1 cups inamona or macadamia nuts, finely chopped and toasted (toast on stainlesssteel skillet)
Scrub, clean and wash breadfruit. Then quarter, core and steam for 25 minutes or until fork can be easily inserted into the flesh. After steaming the fruit, remove any imperfections and cut into ½ – ¾ inch cubes.
Use a blender to mix the Dressing ingredients. Pour dressing over the cubed ulu and mix well with a large spoon. Taste test for salt and pepper and adjust if necessary.
Add sliced green onions, diced sweet or yellow onion, cherry tomatoe halves, limu or ogo, 'inamona or finely chopped and toasted macadamia nuts. Mix gently until all ingredients are well distributed.
Make any adjustments to your preference.
*For more ulu recipes, visit Hawaii Ulu Cooperative's website.